MR32-HW Meraki Meraki https:/meraki.cisco.com/products/wireless/mr32
MR

32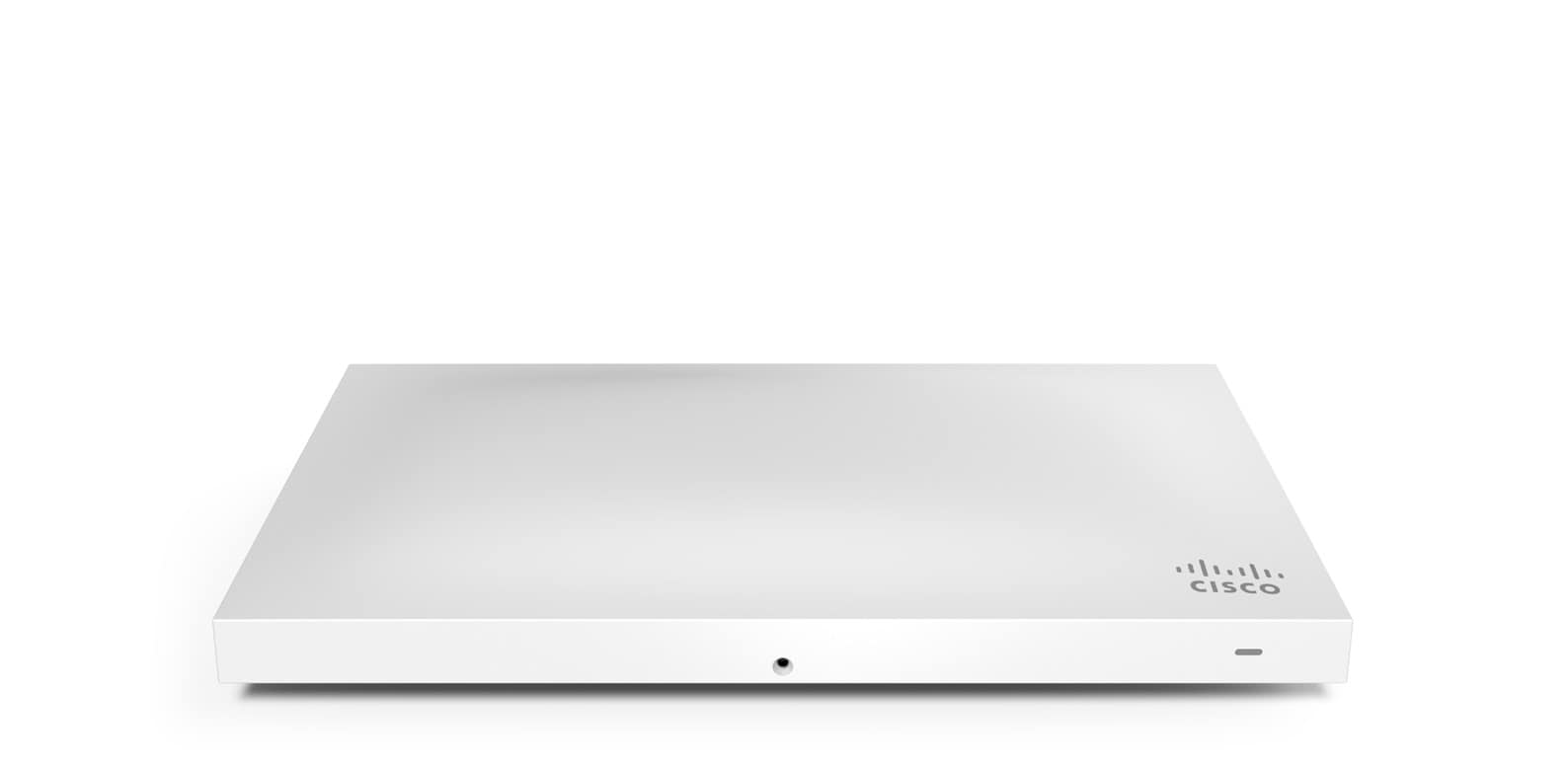 802.11ac with Dedicated Security & Bluetooth Beacons
Cloud management, 802.11ac performance, and a dedicated security radio
Highlights
Ideal use cases

Performance-critical wireless LANs
High-density environments

Hardware features

3 radios: 2.4 and 5 GHz, dual-band WIDS/WIPS
2-stream 802.11ac and 802.11n, up to 1.2 Gbps
Integrated Bluetooth low energy radio
Gigabit Ethernet port
PoE: Full functionality with 802.3af
AC adapter available

Cloud management

Network-wide visibility and control
Self-provisioning for rapid deployment
Automatic reporting
Seamless firmware updates

Enterprise security

802.1X and native Active Directory integration
Air Marshal: real-time WIPS with forensics
Stateful Layer 3-7 firewall
Identity-based group policies
Built-in antivirus scan (NAC)

Guest access

1-click secure guest access
Guest isolation firewall
Customizable splash pages
Integrated Facebook login

RF optimization

Dual-concurrent, 2-stream MIMO radios
Radios optimized for rate-vs-range performance
Third radio dedicated to security and RF management
Built-in real-time RF spectrum view
Cloud-based automatic RF optimization

Layer 7 traffic shaping

Classify hundreds of applications automatically
Create per-application bandwidth limits
Prioritize productivity apps
Restrict or block recreational traffic

Location Analytics

Measure visitor capture rate, visit length, and repeat visit rate
Measure visitor trends over time and compare performance across locations
Enable location services through integrated iBeacon functionality













Usage

In-room hotel or dormitory deployments that must service IP-enabled devices
General purpose 802.11ac for futureproof deployments
General use 802.11ac Wave 2 wireless
High performance 802.11ac Wave 2 for high density campus and enterprise
Highest performance 802.11ac Wave 2 for high density campus and enterprise
Highest performance 802.11ac Wave 2 with Multigigabit for high density campus and enterprise

Radios

1 × 802.11b/g/n
1 × 802.11a/n/ac
1 × WIDS/WIPS
1 × Bluetooth

1.3 Gbit/sec max rate

2×2:2 MU-MIMO with beamforming
1 × 802.11b/g/n
1 × 802.11a/n/ac
1 × WIDS/WIPS
1 × Bluetooth

1.2 Gbit/sec max rate

2×2:2 SU-MIMO with beamforming
1 × 802.11b/g/n
1 × 802.11a/n/ac
1 × WIDS/WIPS
1 × Bluetooth

1.3 Gbit/sec max rate

2×2:2 MU-MIMO with beamforming
1 × 802.11b/g/n
1 × 802.11a/n/ac
1 × WIDS/WIPS
1 × Bluetooth

1.9 Gbit/sec max rate

3×3:3 MU-MIMO with beamforming
1 × 802.11b/g/n
1 × 802.11a/n/ac
1 × WIDS/WIPS
1 × Bluetooth

2.5 Gbit/sec max rate

4×4:4 MU-MIMO with beamforming
1 × 802.11b/g/n
1 × 802.11a/n/ac
1 × WIDS/WIPS
1 × Bluetooth

2.5 Gbit/sec max rate

4×4:4 MU-MIMO with beamforming

Interface

1 × Gigabit Ethernet input

1 × Gigabit Ethernet LAN port with 802.3af PoE

3 × Gigabit Ethernet LAN ports
1 × Gigabit Ethernet port
1 × Gigabit Ethernet port
1 × Gigabit Ethernet port
2 × Gigabit Ethernet port
1 × 2.5Gbps Multigigabit Ethernet port

1 × Gigabit Ethernet port

Power

802.3af PoE
802.3af PoE
DC power adapter
802.3af PoE
DC power adapter
802.3at/802.3af PoE
DC power adapter
802.3at PoE
DC power adapter
802.3at PoE
DC power adapter

Performance features

2×2:2 MU-MIMO

Priority Voice, Power Save (802.11e/WMM)

Hardware-accelerated encryption

Band steering
2×2:2 SU-MIMO

Priority Voice, Power Save (802.11e/WMM)

Hardware-accelerated encryption

Band steering
2×2:2 MU-MIMO

Priority Voice, Power Save (802.11e/WMM)

Hardware-accelerated encryption

Band steering
3×3:3 MU-MIMO

Priority Voice, Power Save (802.11e/WMM)

Hardware-accelerated encryption

Band steering
4×4:4 MU-MIMO

160 MHz channels

Priority Voice, Power Save (802.11e/WMM)

Hardware-accelerated encryption

Band steering
4×4:4 MU-MIMO

160 MHz channels

Priority Voice, Power Save (802.11e/WMM)

Hardware-accelerated encryption

Band steering
* North American list price shown. International pricing, discounts and promotions available through Meraki authorized resellers. Contact Cisco Meraki for a custom quote.
Radios

One 802.11b/g/n, one 802.11ac/a/n radio, and one dedicated for dual-band WIPS & spectrum analysis
Concurrent operation of all three radios
Max data rate 1.2 Gbit/s
Integrated Bluetooth low energy radio (concurrent to WiFi radios)

Operating Bands

FCC (US)

2.412-2.484 GHz
5.150-5.250 GHz (UNII-1)
5.725-5.825 GHz (UNII-3)

EU (Europe)

2.412-2.484 GHz
5.150-5.250 GHz (UNII-1)
5.250-5.350, 5.470-5.600 GHz, 5.650-5.725 GHz (UNII-2e)

802.11ac & 802.11n Capabilities

2x2 multiple input, multiple output (MIMO) with two spatial streams
Maximal ratio combining (MRC)
Beamforming
20, 40, and 80 MHz (802.11ac), 20 and 40 MHz channels (802.11n)
Packet aggregation
Cyclic shift diversity (CSD) support

Power

Power over Ethernet: 37 - 57 V (802.3af supported)
12V DC
Power consumption: 13.87 W max (802.3af)
Power over Ethernet injector and DC adapter sold separately

Mounting

All standard mounting hardware included
Desktop
Wall mount
Ceiling tile rail (9/16, 15/16 or 1 ½" flush or recessed rails)
Assorted cable junction boxes

Physical Security

Security screw included
Kensington lock hard point
Anti-tamper cable bay
Concealed mount plate

Environment

Operating temperature: 32 °F to 104 °F (0 °C to 40 °C)
Humidity: 5 to 95% non-condensing

Physical Dimensions

10.0" x 6.1" x 1.5" (253.4 mm x 155.8 mm x 37.1 mm) not including deskmount feet or mount plate
Weight: 25 oz. (0.7 kg)

Antenna

Integrated omni-directional antennas
5 dBi at 2.4 GHz, 5.5 dBi at 5 GHz
Interfaces

1 × 100/1000Base-T Ethernet (RJ45)
1 × DC power connector (5mm x 2.1mm, center positive)

Security

Integrated policy firewall (Identity Policy Manager)
Air Marshal: real-time WIPS with forensics
Guest Isolation
WEP, WPA
WPA2-PSK
WPA2-Enterprise with 802.1X
TKIP and AES encryption
VLAN tagging (802.1Q)

Quality of Service

Advanced Power Save (U-APSD)
DSCP (802.1p)

Mobility

PMK and OKC credential support for fast Layer 2 roaming
802.11r and 802.11k
L3 roaming

LED Indicators

2 Ethernet status
1 power/booting/firmware upgrade status

Regulatory

FCC (US)
IC (Canada)
CE (Europe)
RCM (Australia / New Zealand)
UL2043 (Plenum rating)
RoHS

Warranty

Lifetime hardware warranty with advanced replacement included

Ordering Information

MR32-HW
Meraki MR32 Cloud-Managed Dual-Radio 802.11n Access Point
MA-INJ-4-US
Meraki 802.3at Power over Ethernet Injector (US Plug)
MA-INJ-4-EU
Meraki 802.3at Power over Ethernet Injector (EU Plug)
MA-INJ-4-UK
Meraki 802.3at Power over Ethernet Injector (UK Plug)
MA-INJ-4-AU
Meraki 802.3at Power over Ethernet Injector (AU Plug)
AC-MR-1-XX
Meraki AC Adapter (US, EU, UK, AU)
Note: Meraki Enterprise license required.