MR18-HW Meraki Cisco https:/meraki.cisco.com/products/wireless/mr18
MR

18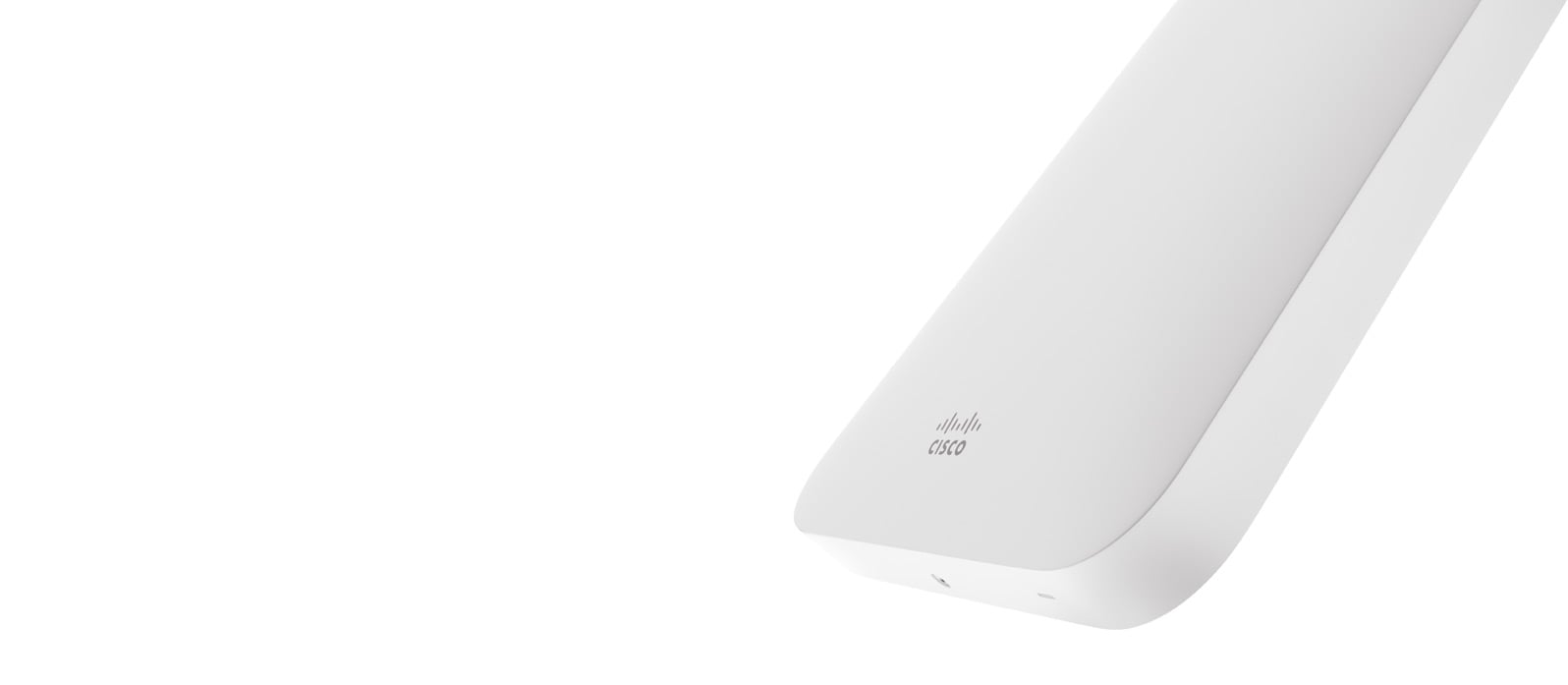 Dual-Radio Performance with Dedicated Security
Versatile, Reliable Performance with the Magic of the Cloud
Highlights
Ideal use cases

General use wireless LANs
Mobility-intensive organizations

Hardware features

3 radios: 2.4 and 5 GHz, dual-band WIDS/WIPS
2-stream 802.11n, up to 600 Mbps
Gigabit Ethernet port

802.3af PoE compatible, AC adapter available

Cloud management

Network-wide visibility and control
Self-provisioning for rapid deployment
Automatic reporting
Seamless firmware updates

Enterprise security

802.1X and native Active Directory integration
Air Marshal: real-time WIPS with forensics
Stateful Layer 3-7 firewall
Identity-based group policies
Built-in antivirus scan (NAC)

Guest access

1-click secure guest access
Guest isolation firewall
Customizable splash pages

RF optimization

Dual-concurrent, 2-stream MIMO radios
Third radio dedicated to security and RF management
Built-in real-time RF spectrum view
Cloud-based automatic RF optimization

Layer 7 traffic shaping

Classifies hundreds of applications
Create per-application bandwidth limits
Prioritize productivity apps
Restrict recreational traffic

Mesh

Self-configuring, self-optimizing mesh
High performance multi-radio routing protocols
Extends coverage to hard-to-wire areas
Self-heals after cable or switch failures

Device management

Create device-specific firewall rules
Deploy applications and updates
Troubleshoot issues with built-in RDP















Usage

Performance oriented for enterprise, campus, healthcare
In-room hotel or dormitory deployments that must service IP-enabled devices
General purpose 802.11ac for futureproof deployments
General use 802.11ac Wave 2 wireless
High performance 802.11ac Wave 2 for high density campus and enterprise
Highest performance 802.11ac Wave 2 for high density campus and enterprise
Highest performance 802.11ac Wave 2 with Multigigabit for high density campus and enterprise

Radios

1 × 802.11b/g/n
1 × 802.11a/n
1 × WIDS/WIPS

600 Mbit/s max rate

2×2:2 SU-MIMO with beamforming
1 × 802.11b/g/n
1 × 802.11a/n/ac
1 × WIDS/WIPS
1 × Bluetooth

1.3 Gbit/sec max rate

2×2:2 MU-MIMO with beamforming
1 × 802.11b/g/n
1 × 802.11a/n/ac
1 × WIDS/WIPS
1 × Bluetooth

1.2 Gbit/sec max rate

2×2:2 SU-MIMO with beamforming
1 × 802.11b/g/n
1 × 802.11a/n/ac
1 × WIDS/WIPS
1 × Bluetooth

1.3 Gbit/sec max rate

2×2:2 MU-MIMO with beamforming
1 × 802.11b/g/n
1 × 802.11a/n/ac
1 × WIDS/WIPS
1 × Bluetooth

1.9 Gbit/sec max rate

3×3:3 MU-MIMO with beamforming
1 × 802.11b/g/n
1 × 802.11a/n/ac
1 × WIDS/WIPS
1 × Bluetooth

2.5 Gbit/sec max rate

4×4:4 MU-MIMO with beamforming
1 × 802.11b/g/n
1 × 802.11a/n/ac
1 × WIDS/WIPS
1 × Bluetooth

2.5 Gbit/sec max rate

4×4:4 MU-MIMO with beamforming

Interface

1 × Gigabit Ethernet port
1 × Gigabit Ethernet input

1 × Gigabit Ethernet LAN port with 802.3af PoE

3 × Gigabit Ethernet LAN ports
1 × Gigabit Ethernet port
1 × Gigabit Ethernet port
1 × Gigabit Ethernet port
2 × Gigabit Ethernet port
1 × 2.5Gbps Multigigabit Ethernet port

1 × Gigabit Ethernet port

Power

802.3af PoE
DC power adaptor
802.3af PoE
802.3af PoE
DC power adaptor
802.3af PoEbr
DC power adaptor
802.3at/802.3af PoE
DC power adaptor
802.3at PoE
DC power adaptor
802.3at PoE
DC power adaptor

Performance features

2×2:2 SU-MIMO

Hardware-accelerated encryption

Band steering
2×2:2 MU-MIMO

Priority Voice, Power Save (802.11e/WMM)

Hardware-accelerated encryption

Band steering
2×2:2 SU-MIMO

Priority Voice, Power Save (802.11e/WMM)

Hardware-accelerated encryption

Band steering
2×2:2 MU-MIMO

Priority Voice, Power Save (802.11e/WMM)

Hardware-accelerated encryption

Band steering
3×3:3 MU-MIMO

Priority Voice, Power Save (802.11e/WMM)

Hardware-accelerated encryption

Band steering
4×4:4 MU-MIMO

160 MHz channels

Priority Voice, Power Save (802.11e/WMM)

Hardware-accelerated encryption

Band steering
4×4:4 MU-MIMO

160 MHz channels

Priority Voice, Power Save (802.11e/WMM)

Hardware-accelerated encryption

Band steering
* North American list price shown. International pricing, discounts and promotions available through Meraki authorized resellers. Contact Cisco Meraki for a custom quote.
Radios

One 802.11b/g/n, one 802.11a/n radio, and one dedicated for dual-band WIPS & spectrum analysis
Concurrent operation of all three radios
Max data rate 600 Mbit/s

Operating Bands

FCC (US)

2.412-2.484 GHz
5.150-5.250 GHz (UNII-1)
5.725 -5.825 GHz (UNII-3)

EU (Europe)

2.412-2.484 GHz
5.150-5.250 GHz (UNII-1)
5.250-5.350, 5.470-5.600 GHz, 5.650-5.725 GHz (UNII-2)

802.11n Capabilities

2 x 2 multiple input, multiple output (MIMO) with two spatial streams
Maximal ratio combining (MRC)
Beamforming
20 and 40 MHz channels
Packet aggregation
Cyclic shift diversity (CSD) support

Power

Power over Ethernet: 24 - 57 V (802.3af compatible)
12V DC
Power consumption: 9.8 W max
Power over Ethernet injector and DC adapter sold separately

Mounting

All standard mounting hardware included
Desktop and wall mount
Ceiling tile rail (9/16, 15/16 or 1 ½" flush or recessed rails)
Assorted cable junction boxes

Physical Security

Security screw included
Kensington lock hard point
Anti-tamper cable bay
Concealed mount plate

Environment

Operating temperature: 32 °F to 104 °F (0 °C to 40 °C)
Humidity: 5 to 95% non-condensing

Physical Dimensions

7.25" x 5.69" x 1.17" (186 mm x 146 mm x 30 mm) not including desk-mount feet or mount plate
Weight: 25.7 oz (0.73 kg)

Antenna

Integrated omni-directional antennas
Gain: 3 dBi @ 2.4 GHz, 5 dBi @ 5 GHz
Interfaces

1 × 100/1000Base-T Ethernet (RJ45) with 48V DC 802.3af PoE
1 × DC power connector (5mm x 2.1mm, center positive)

Security

Integrated policy firewall (Identity Policy Manager)
Mobile device policies
Air Marshal: real-time WIPS (wireless intrustion protection system) with alarms
Guest Isolation
Teleworker VPN with IPsec
WEP, WPA, WPA2-PSK, and WPA2-Enterprise with 802.1X
TKIP and AES encryption
VLAN tagging (802.1Q)

Quality of Service

Wireless Quality of Service (WMM/802.11e)
DSCP (802.1p)
Layer 7 application traffic shaping and firewall

Mobility

PMK and OKC credential support for fast Layer 2 roaming
802.11r and 802.11k
Layer 3 roaming

LED Indicators

2 Ethernet status
1 power/booting/firmware upgrade status

Regulatory

FCC (US)
IC (Canada)
CE (Europe)
C-Tick (Australia / New Zealand)
UL2043 (Plenum rating)
RoHS
For additional country-specific regulatory information, please contact Cisco Meraki sales

Warranty

Lifetime hardware warranty with advanced replacement included

Ordering Information

MR18-HW
Cisco Meraki MR18 Cloud Managed Access Point
MA-INJ-4-US
Cisco Meraki 802.3at Power over Ethernet Injector (US Plug)
MA-INJ-4-EU
Cisco Meraki 802.3at Power over Ethernet Injector (EU Plug)
MA-INJ-4-UK
Cisco Meraki 802.3at Power over Ethernet Injector (UK Plug)
MA-INJ-4-AU
Cisco Meraki 802.3at Power over Ethernet Injector (AU Plug)
AC-MR-1-XX
Cisco Meraki AC Adapter (US, EU, UK, AU)
Note: Meraki Enterprise license required.
Horizontal 2.4 GHz

Horizontal 5.0 GHz

Vertical 2.4 GHz

Vertical 5.0 GHz