Cloud-based Mobile Device Management
Centrally provision, monitor and secure all endpoint devices within your organisation, while keeping your network aware of constantly changing devices.
Provision
Pre-enrol devices or dynamically add users as they join your network. Deploy wireless and VPN connectivity settings, push apps and content, or restrict usage – based on user groups.
Monitor
Locate and track laptops and mobile devices anywhere in the world. Get real-time visibility on device health, security posture, and software and hardware inventory for your entire fleet of devices.
Secure
Ensure security for your organisation from devices all the way to network policies. Protect devices and data with encryption enforcement, enterprise remote wipe and integrated network access control.
Easy integration with your network
Adding Systems Manager to your Meraki network unleashes more visibility, security and control for your managed devices.
Systems Manager with Meraki Access Points
Seamless onboarding – require devices connecting to corporate Wi-Fi to enrol into Systems Manager.
Secure Wi-Fi – Encrypt network traffic between a user's device and the access point.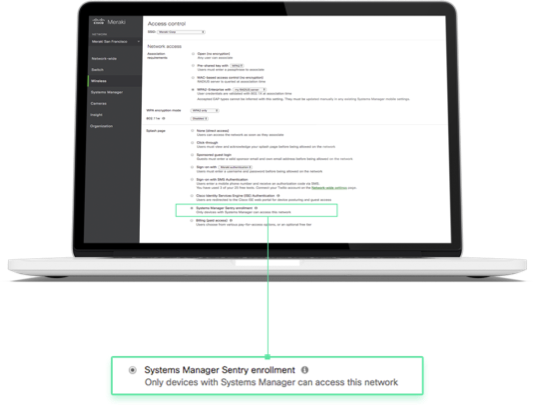 Systems Manager with Meraki MX Security and SD-WAN Appliances
Hassle-free VPN – Deploy client VPN directly to devices enrolled in Systems Manager.
Dynamic policies – Enforce security policies on devices by using device posture.