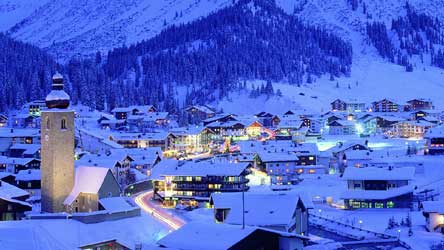 ---
From the sunny terrace of the mountain station at the Zürs resort in Austria, guests can now upload photos to their Facebook page from their smartphones. This snow-loving websurfer's dream is made possible through 45 new hotspots providing coverage for most of the Zürs ski area.
Previously only a few hotels had individual hotspots, but ski resort guests were increasingly demanding reliable online access everywhere. In response, the Zürs Ski Resort businesses combined forces to deploy 45 Meraki 802.11n access points (APs) resort-wide, thereby creating an extensive wireless network called "Zuers.net". The aim was to offer all guests connectivity from any device, whether a laptop, tablet or smartphone. The new Meraki network covers all of the hotels and most public spaces within the ski area, and it utilizes indoor and robust outdoor APs with data throughput of up to 900 Mbit/s.
The main challenge to create a reliable WLAN was the architecture of the Zürs hotel buildings, some of which were over 100 years old. New cabling in these buildings would have been too much effort. Fortunately, Meraki's automatic meshing functionality meant that some APs could act as repeaters, broadcasting WiFi without a direct Internet connection. This advantage kept cables to a minimum, simplifying deployments in older buildings as well as outdoor deployments. The Zürs resort businesses were especially pleased with the elegant design of the Meraki APs, which facilitated installation in public areas.
We took this as an opportunity to create something unique. All the companies make their WLAN infrastructure available, making it so practically the entire local area receives wireless coverage.Gebhard Jochum, Chairman
The entire Zuers.net network was deployed in only a few days. The APs were configured via the Meraki cloud-based dashboard; in fact, after installation of the hardware, the technicians needed only 30 minutes to configure the devices. All the APs are visible on the Meraki dashboard, with no need for a traditional hardware controller. This allows for unlimited scalability, and network administrators appreciate the simple centralized management, including constant network monitoring and real-time diagnostics. When additional coverage is needed for a seminar or other event, the IT specialists just plug in additional access points, with no additional configuration required.
The Zürs IT Team is particularly excited about Meraki's integrated traffic shaping, which protects the Zuers.net network from overload. For example, the network administrators created a traffic shaping rule for lower bandwidth allocation for P2P services.
The network saw clients connecting to it right away, and clients were transferring over 600 GB/month within three months of deployment. Meanwhile, the Zürs IT Team is full of praise for the ease of management and exceptional visibility into the network through the Meraki dashboard.
Our Meraki network will become a true profit center with better ROI than any other profit center in the hotel.