Educar, Ministry of education – Argentina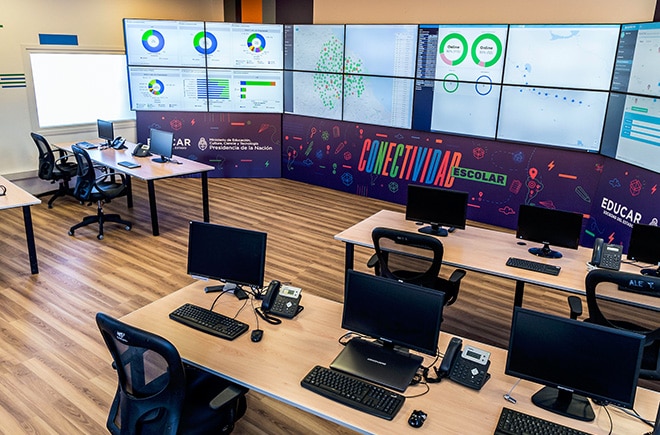 ---
EDUCAR is a state-owned company belonging to the Argentine Ministry of Education, and is a leader and point of reference for the digital transformation for access to knowledge.
For the purposes of empowering the nation's pedagogical goals, EDUCAR manages its public policies aimed at innovating and integrating technology into education, thereby taking the leap required to push the nation by achieving the real use of information and communication technologies (ICT) education programs. Through this, learning spaces that can better exploit the currently existing teaching and technology resources are created.
The beginnings of the connectivity project
The National School Connectivity Plan is designed to provide Wi-Fi connectivity to 100% of public school students across the country.
The lack of a centralized service network before the implementation of Cisco Meraki gave rise to this project. As a result of this lack, each province or institution was responsible for the contracting and maintenance of a network that could provide an Internet service to all public schools all over the country; providing wireless technology to all its students.
The EDUCAR team, led by Mauro Nunes, Director of the National School Connectivity Plan (PNCE, for its Spanish acronym), was looking for a solution that would enable the following:
The monitoring of network infrastructure and associated equipment across all establishments in real time
Managing these resources by optimizing their operation for the correct implementation of the Aprender Conectados plan
Expanding and scaling the network and resources, for them to continue growing
Integrating and coordinating the various educational network organizations
Ensuring the security and quality of the data network for pedagogical and administrative use.
Providing indicators to take high impact action (at the provincial and national levels)
Ensuring the safety of the Incident Management Group network by guaranteeing the proper operation of the service at schools:
Technically managing claims raised by schools or provinces for different issues that may affect the PNCE service
Proactively detecting faults that may impact the PNCE service and offering suitable technical solutions
When the project was just launched in 2016, a pre-market equipment study was conducted based on the compatibility and scope required. After a bid involving the assessment of the different options offered by the market, acquiring and implementing the solution provided by Cisco Meraki was considered in view of the power of the cloud-based management and the seamless integration with multiple applications.
"The flexibility of a cloud-based network as the main feature and the flexibility of interaction with open interfaces (Meraki APIs) that enabled us to develop project management tools in a comprehensive and bidirectional way" were some of the reasons why it was decided to implement Meraki according to the Director of the National School Connectivity Plan.
Deployment
As Educar is a society belonging to the Argentinean state, its users are exclusively students and teachers. The developing plan is intended to connect 9 million students to approximately 50,000 educational units distributed across the country, i.e., all compulsory schooling levels (pre-school, primary, and secondary levels), as well as teacher education institutes.
The network is designed to meet the needs of digital education development in Argentina through the Aprender Conectados plan; therefore, it is conceived to be used for both pedagogically and, to a lesser extent, administrative purposes. Aprender Conectados is the first initiative in the history of the national education policy seeking to implement a comprehensive program of digital education, programming and robotics at all levels of compulsory schooling.
The Ministry of Education ensures network operability through its Comprehensive Technology Monitoring Center (CIMTE, its Spanish acronym), which allows for the real-time verification of the status of the network infrastructure and its equipment, in addition to resource management, to optimize its Operation in all establishments. It includes state-of-the-art troubleshooting tools and, once the fault type is identified, the actions and processes for its solution are deployed, which can range from remote management to interventions requiring physical presence at schools.
The integration of Cisco Meraki systems with ownership developments provides public education in Argentina with online management of the entire connectivity network in a centralized and secure way.
Network management
The tools most commonly used by the team in charge of monitoring the 18,700 networks configured in the Cisco Meraki Dashboard are summary reports, wireless health, and troubleshooting tools such as cable testing. Nowadays, 148,700 devices are connected in jurisdictions all over the country.
Regarding the use of troubleshooting tools, the Educar technology team mentioned that they mostly use equipment reset, light flicker, and cable testing tools. Besides its ability to reset ports, test throughput and traceroute, enabling the team to deliver a better service to students while reducing operational costs.
Purchased equipment
Switches
MS225 features
24 and 48-port models
4 × 10G SFP + uplinks
Stackable with MS210
Stacking up to 8 drives
80 Gbps physical stacking
Power/PoE
It supports Cisco Redundant Power system (RPS2300)
Trusted platform with Meraki 24/7 support
Rack-mounting 1RU
Low noise, no fan model available
Voice and video QoS
Email Alerts for switch management
Remote troubleshooting tools
Manage ports from a GUI-based dashboard
Contactless provisioning
Usage statistics by port and by client
Secure, user-programmed firmware updates
Layer 2 with static routes
Warm spare redundancy (VRRP)
DHCP Snooping
MS120 features:
8, 24, and 48-port models
4 × 1G SFP uplinks
Power/PoE
MS120-48LP includes 370W
MS120-48FP includes 740W
Up to 30W per port
Rack-mounting 1RU
Low noise, no fan model available
Voice and video QoS
Email alerts for switch management
Remote troubleshooting tools
Manage ports from a GUI-based dashboard
Contactless provisioning
Usage statistics by port and by client
Secure, user-programmed firmware updates
Switching capabilities
Layer 2
DHCP relay
802.1X authentication
DHCP Snooping
Security devices
MX84 features:
Firewall throughput: 500 Mbps
Maximum clients recommended: 200
Centralized cloud-based management.
It classifies devices, users and applications.
Contactless self-provisioning implementations
Auto-Configuration VPN™ site-to-site VPN
Active Directory integration
Identity-based policies
Client VPN (IPsec)
7-layer application visibility
Application prioritization
Web cache storage
Choose the WAN uplink based on the type of traffic
Content filtering
Google SafeSearch and YouTube for schools
Intrusion Detection and Prevention Systems (IDS / IPS)
Advanced Malware Protection (AMP)
Cisco Threat Grid2
Z3 features:
Fast, reliable connectivity for the modern teleworker
802.11ac Wave 2 Wi-Fi for fast and reliable connectivity
4 wired ports with a PoE-powered port, ideal for phones
1 GbE WAN port, 4 GbE LAN ports
3G / 4G failover via USB modem
Sleek, low-profile design with optional desktop support.
Wireless
802.11ac Wave 2 dual-band radios
2×2 MU-MIMO, data speed up to 1.3 Gbps
Supports up to 4 SSIDs
Traffic shaping and application management.
Layer 7 application visibility and traffic shaping
Application prioritization
Firewall separates corporate and personal traffic
Extends VoIP phones through WAN
802.1 x support for wired port authentication
Auto-Configuration VPN™ site-to-site VPN
Centralized cloud-based management
Classifies applications, users, and devices.
Contactless self-provisioning implementations
Access points
Features of the MR33 (new models available):
Dual-band, 802.11ac Wave 2 2×2:2 MU-MIMO
Access points with dedicated security and
built-in Bluetooth
1.3 Gbps * Added dual-band frame rate
24×7 real-time WIPS/WIDS, spectrum analytics and Wi-Fi
Location tracking by dedicated third radio
Integrated enterprise security and guest access
Application-aware traffic control
Optimized for voice and video.
Auto-configuration, Plug-and-Play implementation