Meraki at Cisco Live Melbourne 2023
Melbourne Convention and Exhibition Centre, December 5–8, 2023
Cisco Live is a great opportunity to learn new IT innovations, and Meraki is excited to be part of the action.
At Cisco Live, you'll learn about the Meraki vision for the future and how we are enabling a cloud-first architecture for IT, network, and facilities users. Join us for innovation talks, interactive technical sessions, demos, and more.
Register now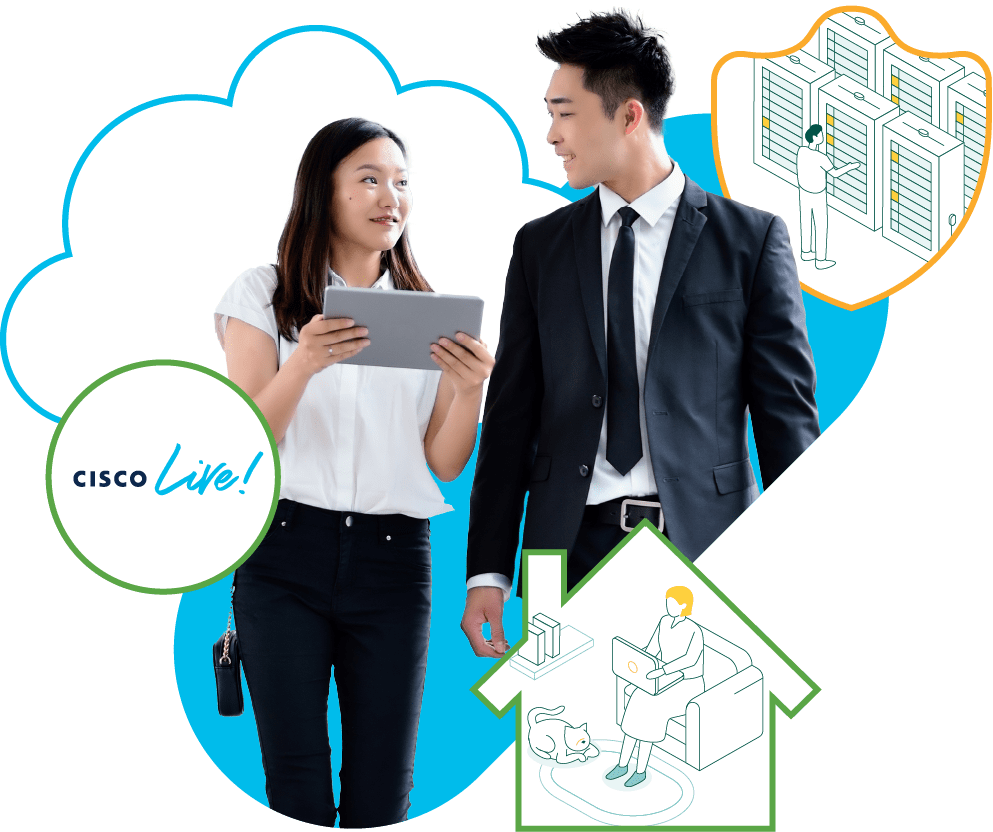 Exclusive Meraki sessions
Meraki has a lot in store for you at Cisco Live. Be sure to check out sessions on everything from cloud-based network management to the latest in IoT and Wi-Fi 6E.

Are you ready for the experience of the year?
View Sessions
TUESDAY, DECEMBER 5
2:00–2:50 pm AEDT
Monitor Your Cisco Catalyst 9000 Switch From the Meraki Dashboard
BRKENS-2201
See how to onboard Cisco Catalyst 9000 switches onto the Meraki cloud-based dashboard.
4:00–4:50 pm AEDT
The Journey to 5G with Cloud-Managed 5G
BRKMER-1563
Learn how Meraki MG cellular gateways unite networks with out-of-the-box connectivity and simple APIs.
WEDNESDAY, DECEMBER 6
8:30–10:00 am AEDT
Wireless-First Enterprise: Cut the Cord and Build a Resilient Wireless Network!
BRKEWN-1703
Discover how wireless networks can meet enterprise demands for on-premises and cloud architectures.
1:00–2:30 pm AEDT
A Common Policy for Network Agility and Security: The Unified Meraki Approach
BRKMER-1234
This session covers how Meraki uses a common policy approach to provide consistent security and network visibility across your company.
2:40–3:40 pm AEDT
You, Me, and Meraki IoT
BRKMER-2677
This session explores the core use cases delivered by Meraki IoT across physical surveillance and sustainability.
THURSDAY, DECEMBER 7
9:00–10:30 am AEDT
7 Tricks to Succeed as a Wireless Rockstar
BRKEWN-1742
In this session, we will explore seven tricks that will keep you safe from failure and take you to the next level: becoming a wireless network rockstar.
12:30-1:15 pm AEDT
API Design Principles and considerations for massive scale
DEVNET-1646
In this session we will tackle a number of API design principles we have developed and how these designs solve problems for application developers managing data and networks at massive scale.
4:00–5:30 pm AEDT
Scalable Meraki Access Switching
BRKMER-2057
Whether you're a Meraki switching expert or just starting your cloud journey, this session has insights into new platforms, features, and use cases.
FRIDAY, DECEMBER 8
9:00–10:30 am AEDT
Cisco Meraki SD-WAN—Powerful Networking, Made Easy
BRKMER-2057
In this session, you'll learn how Cisco Meraki SD-WAN works, what use cases it solves, and how it's evolving to meet customer needs.
9:00–10:30 am AEDT
Your Kick-Start for the Sustainability Journey
BRKGRN-1751
In a rapidly evolving discussion where research is ongoing, with a dizzying array of objectives and trade-offs to consider, we aim to provide you with high-level concepts, but also practical technical examples and certainly food for thought.
Visit Meraki at the Networking stand
Stop by the Networking stand in the World of Solutions, see demos, learn about the latest innovations for Cisco networking, and you'll also have a chance to test your surfing abilities!
Catch the wave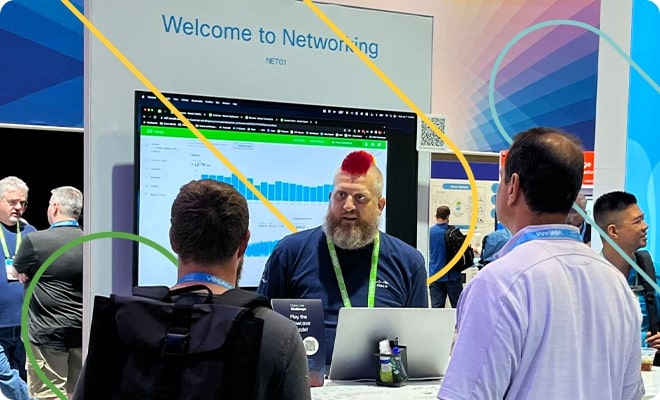 Meraki Spotlight
(formerly DevNet Takeover)
Join the Meraki team on Wednesday, December 6, 2023, at 2:00 pm, in the DevNet Zone for the Meraki Spotlight Session. Attendees can engage in theatre sessions, hands-on workshops, classroom sessions, and more throughout the day as well. All are welcome, whether you're new to the developer space or a seasoned pro. Come learn more about Meraki APIs and ecosystem partners.
LEARN MORE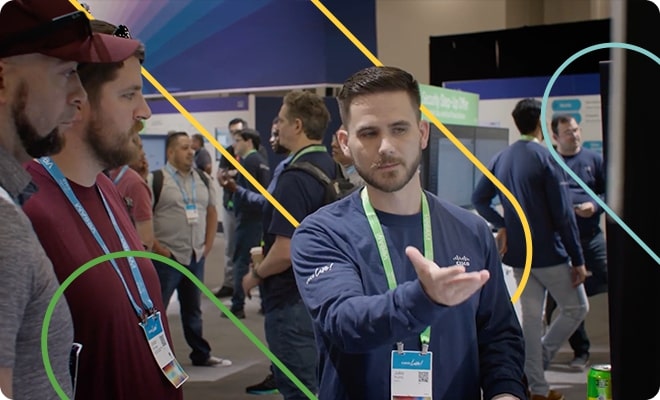 Demos in the World of Solutions
Showcase Hours
Tuesday: 3:00–7:00 pm
Wednesday: 11:15 am–5:30 pm
Thursday: 9:30 am–4:00 pm
Friday: 10:30 am–1:30 pm
Immerse yourself in the Cisco stand at the World of Solutions.
Experience interactive demos of Cisco's latest innovations and talk to experts to see how these technologies and solutions empower you to work easily and effectively, from anywhere.
Discover what's new, make connections, and (most importantly) have a blast. This is also the place to get demos of the world-class Meraki platform and our cutting-edge products.
SEE DEMOS