Universidad de las Américas Puebla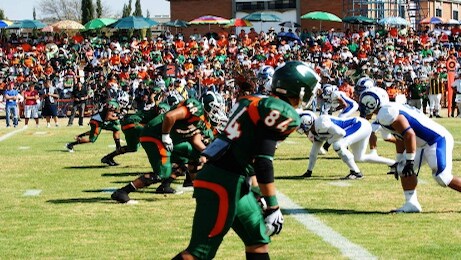 ---
Founded in 1940, Universidad de las Américas Puebla, located in San Andrés Cholula, Puebla, Mexico, is one of the most prestigious universities in Latin America. Providing wireless access for its 7,000 students has always been a challenge, as the vast campus is spread over 38 buildings and covers more than 180 acres.
In 2010, Fernando Thompson de la Rosa, the University's Chief Information Officer, and Alberto Garcia Caraveo, the Director of Telecommunications and Network Security, were inundated with complaints from students, staff, guests, and even the President and Vice President of the University. The University was running Proxim Wireless access points, but they weren't meeting the university's needs.
"We received at least a dozen complaints per day," said Fernando Thompson. "Students said the WiFi was really awful, and some even described it as non-existent. Sometimes we couldn't even access the network. We could see that there was full signal strength, but we couldn't connect to the AP because all the ports were busy."
Alberto Garcia explained that the University first tried to resolve the problem by expanding the network. "We began to install more access points in the same room, sometimes even four in the same room," he said. "It was so confusing because the students tried to connect to each of the access points but without success. We were spending a lot of money, but the quality of WiFi did not improve."
At the same time, the University began to shift towards cloud technology. The University's email, storage, and electronic portfolios were moving to the cloud. Consequently, students began to bring multiple devices onto the wireless systems, and they wanted to use their devices not only in the classrooms, but also in the lobby, open space, and even in the gardens. "WiFi was necessary and with all the complaints, we were just fed up!" Alberto Garcia said. "We had to find another wireless solution to improve the situation."
In 2010, Fernando Thompson and Alberto Garcia started to investigate wireless solutions and decided to look at Meraki after discovering that Stanford University in California, USA deployed Meraki. "Stanford's campus is similar to our campus, in that our campus is vast, with large distances from one building to another. There are lots of open spaces, and we wanted to blanket the entire campus with WiFi," recalled Fernando Thompson. The team also tried wireless solutions from Xirrus, Ruckus, and Aruba.
"We chose Meraki for many reasons. At the top of the list is ease of management and performance," Alberto Garcia explained. "Previously, we had to configure and manage the Proxim access points individually, one-by-one. With Meraki, we installed our first batch of more than 100 access points in one week and configured all of them centrally, over the cloud, in just one day. Performance of Meraki is awesome, the APs have never failed, and the number of complaints has gone down to zero."
Meraki also enabled the University to increase security. "Previously, we had a splash page, and you could simply enter your username and password on any device to access the network," Alberto Garcia explained. "It was not safe, because students could share their username password with others outside of the university and they could come on our network. They were like anonymous parasites in our infrastructure."
Now with Meraki, the University uses WPA2-Enterprise with electronic certificates and authenticates with the RADIUS server. In addition, Alberto Garcia notes, overall network visibility has increased significantly. "We have complete visibility into the devices, users, and their usage. We can see who and what is connected to our networks, the duration of the connection, and what applications they are using and downloading."
No hay una tecnología Wi-Fi mejor que la de Meraki, por lo que es la única plataforma que va a utilizarse en nuestra universidad. He estado leyendo acerca de las últimas tecnologías Wi-Fi de varios proveedores. Veo lo que ofrecen y pienso: eso ya lo tengo con Meraki Fernando Thompson de la Rosa, Chief Information Officer, Universidad de las Américas Puebla
Fernando Thompson and Alberto Garcia are very proud of their University and its WiFi. "Not only are we able to provide wireless for our University students and faculty, but also for all of our guests," Alberto Garcia said. "Especially after winning three national Football league championships, our team, the Aztecas, is more popular than ever. Fans are really excited to watch the games at our stadium that seats 5,000, and they are on Twitter and Facebook every second of the games. At any one time, we are supporting more than 12,000 users, which is beyond our goals."
Fernando Thompson vows to continue bringing world-class technology to the University. Meanwhile, he notes that there are over 320 Meraki APs on campus and security products. "There's no better WiFi technology than Meraki and there's no way the University will use any platform other than Meraki," he said. "I read about the latest WiFi technology from various vendors. I look at that and say, I already have that with Meraki."