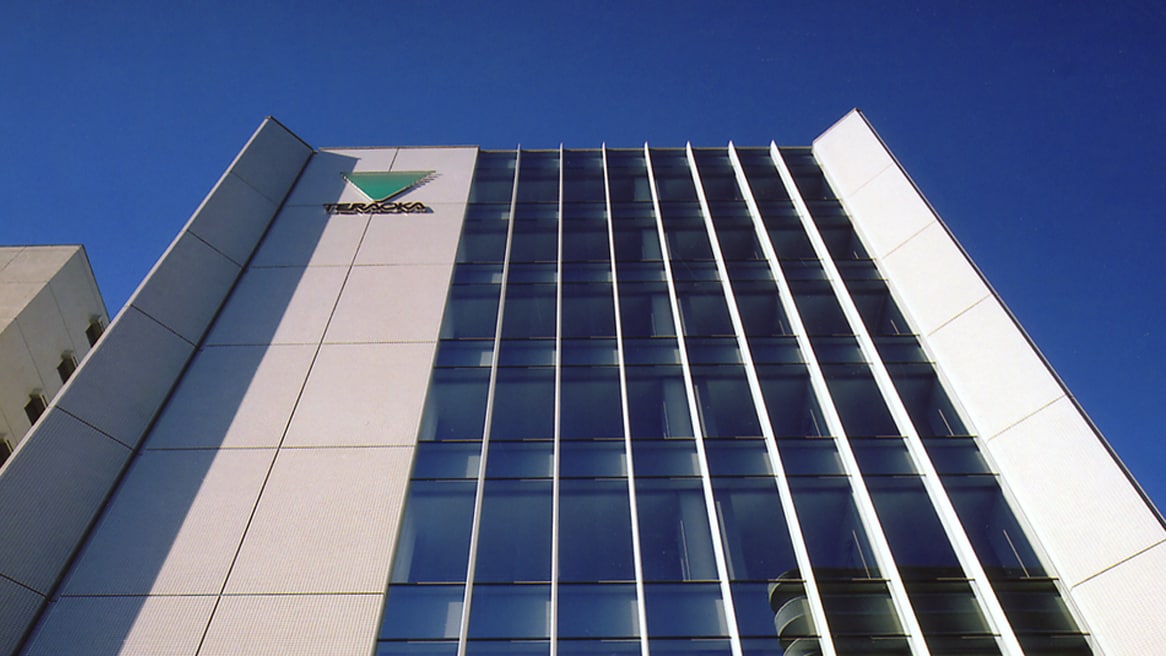 ---
Teraoka Seiko is a Japanese corporation that manufactures scales, Point-of-Sale (POS) registers, self-checkout cashiers, recycling machines, and other automation solutions. They are headquartered in Tokyo and were established in 1934.
Teraoka Seiko is known to have a strong pioneering spirit and culture, which began with their first company president and founder, Toyoharu Teraoka. In 1904, Toyoharu Teraoka travelled to the United States to study mechanical engineering at the University of California, when it was not nearly as common as it is today for Japanese people to study abroad. After returning to Japan, he founded his own company — their first product was a new invention: the first commercial spring scale. This scale differed from existing balance-type scales and has since become the new standard for scales.
Today, Teraoka Seiko has a global presence with a total of 3500 employees worldwide. They have factories in Japan, Singapore, Shanghai, Batam, and the United Kingdom. They also have offices in South Korea, Canada, Belgium, France, and the Netherlands — in addition to their 115 offices throughout Japan.
Because Teraoka Seiko's previous network infrastructure did not allow for wireless devices to be centrally managed, one of the primary characteristics they were looking for was equipment that would be able to comprehensively manage a network. The IT Director at Teraoka Seiko, Takahito Natsubori, began his search with traditional on-premise controller systems. However, he was not satisfied with these options because of the cost of the WiFi controller itself. Additionally, because data ran through the traditional controllers available at the time, any issues with the controller would make the WiFi unusable.
"I felt that, at a time when everyone was talking about WiFi this and WiFi that, there must be a more exciting WiFi product, there must be something more innovative out there," Natsubori said.
After performing some more research, he discovered the Meraki cloud managed solution, enabling the network to be monitored and managed from anywhere via a web-based dashboard. He signed up for a demo of the Meraki solution and was impressed. "I was truly shocked that such a thing as Meraki existed. I would call it 'work-saving simplicity'. The things I previously had to write technical commands in order to have visibility into, were already available for me to view on the fly in the dashboard. This was incredibly refreshing." Natsubori was so excited about Meraki that he declared to the reseller that he would purchase over 100 Meraki Access Points for Teraoka Seiko.
When Natsubori discovered Meraki, Meraki had yet to officially begin its expansion into the Japanese market. Natsubori made a special request to their reseller to figure out a way to bring the 100 APs to Japan. True to their strong pioneering spirit, Teraoka Seiko was one of the very first companies to deploy Meraki in Japan.
Teraoka Seiko first deployed 100 APs, and a year later, deployed 70 additional APs, as well as Meraki MS Switches, MX Security appliances, and Systems Manager MDM. Natsubori explained that he was able to deploy the first batch of APs singlehandedly, simply by using the Meraki dashboard. "I actually don't remember how long the installation took because it was so easy, and I was able to preconfigure everything in advance," Natsubori said. "Rather, it was more like whenever I would have a spare moment, I would install the APs. Because the configuration was already complete, instead of deploying all at once, it was more like I could install at any time, at my leisure."
"You really don't even feel like you've built a network at all," Natsubori said. "You set it all up in the cloud, then just plug everything in, and it's ready to go. That's not the case with other products. The best thing about Meraki is that you can preconfigure all of the settings you want in the dashboard, so all you need to do is to turn the equipment on, and the settings automatically flow right in."
Natsubori explained that even with hundreds of wireless devices, the same network policies can be applied. He highlighted that normally, during installation and preparation steps, a design plan would have to be written up first, then the settings for each piece of equipment would have to be configured individually. However with Meraki, this preparatory step is incredibly simplified. "I'd say the same step takes one tenth of the effort," Natsubori said. "Because the pre-installation preparation was so effortless, we were able to significantly decrease the time to deployment. In fact, I didn't even need to travel to places I would normally have to travel to for the deployment."
The ease-of-use and how easily you are able to get information is exceptional. Network administrators are able to see information that is useful for managing the network at a glance, and are able to access it at any time and troubleshoot as needed. Takahito Natsubori, IT Architect
Teraoka Seiko uses two main SSIDs for WiFi; one for employees and another for guests, which utilizes a custom splash page and requires a log-in. The built-in Layer 7 functionality on the Meraki Access Point controls each SSID individually — blocking non-work traffic and throttling bandwidth as needed. "I was deeply impressed that you are able to create firewall rules per SSID," Natsubori said. "As a result, you're able to use whitelist and blacklist policies as needed. I treasure this feature." Additionally, Teraoka Seiko uses Meraki Systems Manager MDM to manage 2600 employee iPhones.
When Teraoka Seiko wanted to connect all of their sites worldwide, Natsubori utilized the Auto VPN feature within the Meraki MX Security Appliance to accomplish this. Whereas normally setting up VPN can be quite time consuming, for Natsubori all that was required was two clicks in the web-based dashboard, and all of the sites were securely connected. "I love the ease of setting up VPN. With Auto VPN, it configures itself with just an Internet connection. Everything went as expected, without a hitch, and we were able to cut out the areas that are normally time consuming. We're actually going to be doing the same thing for South Korea. I'll set up everything in the cloud, ship the equipment to Korea, and that's it!"
Natsubori praised the visibility he has into the Meraki network, such as the ability to see which client device is connected to which AP, or the ability to easily see the overall network architecture via the Topology page, a dynamically-generated visual map available in the Meraki dashboard. "The ease-of-use and how easily you are able to get information is exceptional," Natsubori said. "Network administrators are able to see information that is useful for managing the network at a glance, and are able to access it at any time and troubleshoot as needed."
In one instance, Natsubori received a complaint that the WiFi in one of the remote factories was not working. "All I did was go to the 'Clients menu' in the dashboard and was able to view the current IP address, the state of the SSIDs, and if the settings were mismatched or not, all at a glance. By checking the Topology map, I was able to see details such as which devices were connected to which AP and what switching hub the AP was connected to. It was easy to determine which area the problem was occurring in. For other products, you're not usually able to pull that type of information so effortlessly."
As an engineer, Natsubori appreciates that even though Meraki hardware is very user-friendly and simple, it is also built with advanced enterprise-grade capabilities. "Meraki is very versatile. Even the things that you don't use every day are built really well."
"I fell in love with Meraki and with my own personal feelings, I was able to convince a reseller to bring Meraki to Japan," Natsubori said."I truly want more people in Japan to learn about Meraki and fall in love, just as I did."