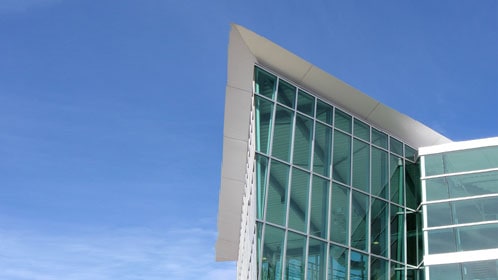 ---
Phoenix College is the flagship college for Maricopa Community Colleges, the largest provider of higher education in Arizona and the nation's largest community college system. Supporting 12,000+ students and 850 faculty and staff spread across 50+ acres and 3 campus sites, Phoenix College has a huge population of computer users who demand constant wireless access.
Unfortunately, even as iPad and mobile device usage skyrocketed, the wireless network at Phoenix College was so weak and unreliable that students and staff avoided using it. The steel and concrete buildings blocked wireless signals, resulting in numerous dead spots. Adding to the frustration, the network had been created with 50 consumer grade access points (APs) around campus, dropping users' connections any time they roamed from one AP to another. The network offered no differentiated access control or quality of service between students, faculty, and guests.
"We knew we needed a ubiquitous, centrally managed system," said Mike Poplin, Director of Media Services at Phoenix College. "But when we looked at going down that path, it looked like a substantial amount of money."
When Poplin learned about Meraki's cloud-managed networking solution, he immediately saw how eliminating traditional WiFi controllers could reap substantial savings. "We were looking at six-figure savings," he said. "With Meraki, we could build out a high performance, campus-wide solution we never could have had afforded – or managed – otherwise."
The team piloted the Meraki system at their downtown campus, managing it remotely from their main campus. "It was so easy," said John Helterbran, Enterprise Network Administrator. "The APs automatically download their configuration from the cloud, and the web-based dashboard makes it easy to keep track of how the network is doing, how many people are logged in, the number of unique users, and how much data is being transferred."
After a great success with the pilot program, Phoenix College deployed 200 Meraki APs throughout the entire campus, including the stadium, outdoor meeting spaces, and sophomore square. "When the students left for the summer, they left an awful wireless network behind," said Dr. Mark Koan, Dean of Information Technology. "And when they came back they had a great wireless network waiting for them. So far the feedback from our customers has been very positive."
Dr. Koan is extremely proud of the network. "We are challenging our students to find dead spots for us," he said. "We don't think they'll find any."
Because the Meraki system didn't require any training, three members of the Phoenix College IT Team could share wireless management duties – which Helterbran found to be few and far between. "The Meraki management capabilities are huge," he said. "We can manage the entire system on the fly and we don't have to go back to a data center." The team carries iPads and enjoys seamless roaming across campus, providing remote troubleshooting and noting trends like increased users in certain parts of campus. "The Meraki system is scalable, so it's always easy to add another access point," Helterbran notes.
Multiple SSIDs ensure that faculty and staff, students, guests, vendors, computer labs, and the IT Team are all on separate networks, some of which are hidden, some open, and some requiring 802.1X authentication. Using Layer 7 application traffic shaping, Phoenix College can also prevent access to specific applications, such as BitTorrent and other peer to peer file sharing applications, and can set bandwidth limits for popular bandwidth-hungry applications like Netflix and YouTube.
Deploying Meraki has been a huge win from every perspective. In terms of cost and value, we are getting more services and features for dramatically less money.Dr. Mark Koan, Dean, Information Technology
"We don't want to cut off popular services completely, but we do want to prioritize educational applications," said Dr. Koan.
Since the Meraki deployment, the campus is seeing an influx in iPads, smart phones, and other mobile devices, all easily visible on the Meraki dashboard. The nursing department and math departments even bought iPads to take advantage of the new wireless network.
"The more the word got out, the more people started using the network," Poplin said. "This is the best wireless system in the district. We are setting the pace now, where before we had been the followers."
"Deploying Meraki has been a huge win from every perspective," Dr. Koan agreed. "In terms of cost and value, we are getting more services and features for dramatically less money. It's hard to imagine we could have found a better solution."
Phoenix College blankets 50-acre campus in WiFi, improving reliability, visibility, and control