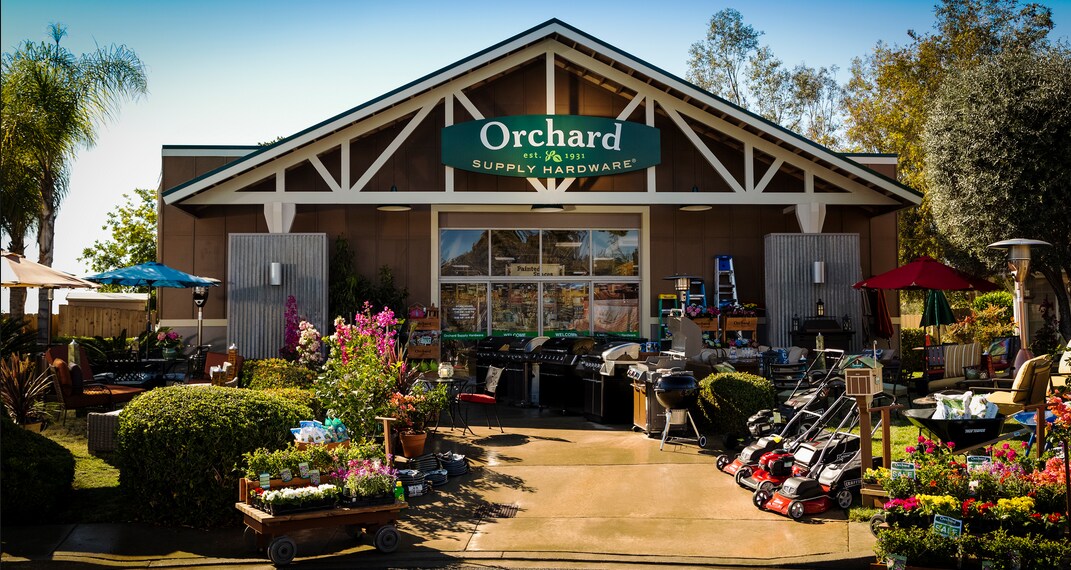 ---
In operation since 1931, Orchard Supply Hardware (OSH) is a successful home improvement retailer with over 70 stores throughout California and Oregon. The company is based in San Jose, California, where a lean IT team manages the network for all locations. Meraki cloud managed access points and switches enable the retailer to focus on its customers and high­priority projects, rather than routine network maintenance.
Moon Son, Senior Director of IT Infrastructure at OSH, discovered Meraki four years ago. Challenged by limited IT resources and tired of traditional on­-premise controller models, Moon initiated a proof of concept with Meraki wireless access points. OSH needed a new, reliable wireless network for inventory scanning, price look-­up, and other critical retail functions. Moon and the team soon developed a close relationship with their Meraki sales team as they worked together to figure out the best setup for their unique environment and business initiatives. "Meraki was very attentive to our needs and provided great customer service, setting them apart from other vendors we were looking at back then," Moon said. Today, all OSH locations still boast the same MR16 802.11n APs that they purchased from that initial meeting. "The investment is still working for us, and I'm happy to say that all the features we have wished for have also been developed over the years," Moon expanded.
The visibility and ease of management inherent to Meraki hardware and the cloud based management dashboard have been valuable assets for the lean OSH IT team. "Being able to schedule firmware and feature updates and not having to plan maintenance activities has been a huge benefit for my team, and a big cost saver in terms of resource allocation and time," Moon shared.
Meraki has been a strong partner of ours, and you guys definitely go out of your way to support us. Meraki just reduces the burden of IT so we can focus on higher pay­-off activities.Moon Son, Senior Director of IT
However, Meraki proved most useful this past summer when the team set out to construct a new IP schema across their entire network for a new point of sale initiative, while also integrating new switches. "We touched every single network device, every single endpoint, put in new switches, re­-did our routers to recognize the new IP scheme, everything," Moon said. "This was a monstrous effort, and Meraki was a huge, huge help."
Moon and his IT team spent a few months creating the new network design and testing everything. They again had the opportunity to work closely with the Meraki team to come up with a plan to adopt Meraki switches and phase out their legacy gear. "We threw in a new back office server, which increased the demands on our network. Our old switches were not gigabit ports, so we looked to Meraki gigabit switches to fulfill our needs," Moon said.
In July, the team began to execute on their aggressive rollout schedule. Six OSH IT members managed the process internally, while hired contractors were sent on­site to do the physical installation of the new hardware.
"We needed to touch every endpoint, rip out the old gear, put everything new in and test it; this is quite a challenge when we had 3­4 contractors in the store performing the work," Moon explained. "We committed to minimal store disruption. The upgrades had to start at 10pm and finish by 6am in time for the store to prepare for opening."
The deep visibility provided by the Meraki dashboard proved to be extremely valuable when doing such an important, time­-sensitive rollout from a distance. The IT team was able to remotely drill down into each switch and create views of what VLAN each device was assigned to and what IP addresses they were recognizing. "This was the #1 tool that cut down the deployment time and troubleshooting process. We were changing every IP and devices were scattered throughout the store. The switch would tell us what IP it was seeing, and then we'd know which devices hadn't yet been converted, or if they had the wrong IP, or if they were assigned to the wrong VLAN." The team was able to run live cable tests on each switch, which provided visibility into whether the right cables were plugged into their assigned spots, in addition to the packet captures that determined the broadcast IP. This visibility made communication with the on­site contractors simple, and any wrongly assigned or misplaced devices could be quickly identified and fixed.
At any given point during the rollout, up to 7 stores were deploying at the same time, either in the network and device refresh phase or in the POS implementation phase. "There were around 12 of us [IT members] helping out while also juggling our other responsibilities," Moon shared. "We were updating an average of 24­-26 stores a week! Doing all that through the cloud without having to do the traditional manual process, which is very time consuming, was great. With Meraki, we plugged the switch in and it lit up. We were able to manage it and make the changes that we needed – it worked out beautifully and saved us a lot of time," Moon reflected.
The unified Meraki platform proved very useful when adding Meraki switches to the expansive OSH wireless network. "Everything was integrated, the switches were just added nodes to manage. Now it's a single dashboard to manage the layer 2 switches and the access points," said Moon. The team was even able to give read­-only access to their support team, so they could help check whether a device was correctly configured without disrupting anything.
"Meraki really helped us identify and troubleshoot the endpoints during the redesign. Yes, you can do this with any platform, but with the simplicity of the Meraki design and the dashboard, it made tasks a lot easier and there was no real learning curve," Moon said. All pieces of the network refresh were finished by the end of August. "It was a lot of effort and a huge stretch goal that we completed. Meraki was a big piece of that, and helped us both in the deployment process as well as in troubleshooting."
At each OSH location, which range in size from 30,000 to 35,000 square feet, there are currently 2 Meraki MS220 Switches and around 11 802.11n Meraki Access Points, and the team is looking into adopting the MR32 and MR72 802.11ac Access Points as their new standard. The flexibility in the Meraki design allows them to easily create Layer 3 and Layer 7 firewall rules to restrict usage on each SSID. "With just a few clicks and a definition of an IP, we can tell the AP exactly what devices are allowed to do," Moon said. "Now we're doing firewall rules on the AP, versus just strict layer 2; this was a huge win, because as a retailer, security is top of mind for us."
This year, they plan to roll out VoIP wireless phones and pilot mobile devices with the MR32 and MR72 Access Points. "Meraki is very flexible and easy to manage, which allows us to adjust our plans at any time," Moon said. "In the future, we're going to be working closely with Marketing to leverage Meraki's analytics and guest WiFi features, hopefully tying it to loyalty and other marketing campaigns."
As OSH makes plans to scale in the future, they know that they can count on their Meraki network to seamlessly support this growth. "Meraki has been a strong partner of ours, and you guys definitely go out of your way to support us. Meraki just reduces the burden of IT so we can focus on higher pay­off activities."