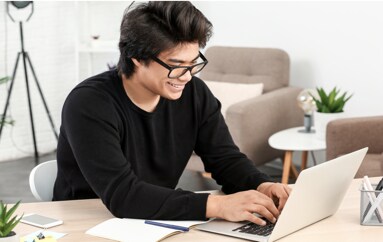 Last year, Asia Pacific was positioning itself as the fifth largest economy in the world, growing at a steady rate of 6% per year. But 2020 threw a curveball in the form of a global pandemic—borders were shut, economies slowed down, and life as we knew it took a different turn.  
As businesses have adapted in recent months with more distributed employees and a focus on enabling a digital workplace, safety has been maintained. Now, there are almost five times more people working remotely compared to before, and this number is expected to rise with more organisations embracing a hybrid workforce. Given these changes in how we work, what are some of the emerging workplace trends we expect to see grow in the Asia Pacific market?      
1. Hybrid working environments
A study commissioned by Cisco shows a rapid change occurring due to real-life pandemic response. Research showed that IT and business professionals saw a 4.7x increase in the level of home working, sometimes in a matter of days. This was despite equipment shortages, lack of functionality and/or capacity of necessary systems, and the challenges of getting employees up-to-speed with new ways of working. With a lean IT team of four people managing over 290 offices in Australia and regions like Africa and Southeast Asia, Cardno was able to simplify how they manage their IT network. By upgrading their infrastructure, they are able to stay on top of things as they move towards a modern and hybrid workplace. 
2. Remote access security 
A Gartner HR survey reveals 41% of employees are most likely to work remotely even post-pandemic. However, while working from home, more than 50% of employees do not have updated company security policies to address potential threats. Citing Singaporean-based private storage company Lock+Store's CEO, Helen Ng, security is the company's utmost priority given the personal data they are managing. With the right security solutions, Lock+Store can protect their data and securely investigate incidents or network issues when they happen. They also have access to better insights which will help deliver a better customer and employee experience. 
3. Flexible cloud-managed IT 
Top research giant IDC predicts 2021 as the year for multi-cloud, as they expect over 90% of enterprises worldwide will deploy a mix of on-premises private clouds, multiple public clouds, and legacy platforms to meet their needs by 2022. However, not all businesses are ready to implement cloud road maps due to migration and skills-related challenges. MyRepublic, an Asia Pacific cloud platform company based in Singapore, rose to the challenge. They were able to maintain and manage their networking infrastructure across multiple countries. These allowed the team to allot more time to other projects that will grow their business. 
Enabling hybrid working environments, prioritising security, and taking advantage of cloud technology are key strategies that can accelerate the journey to recovery and success. Being agile in an ever-changing market landscape is now top-of-mind for companies looking to deliver innovative products and services faster than the competition. The question is, do you think your organisation is IT ready for 2021?
Bookmark your calendar and register now for the upcoming "Cisco Meraki virtual fireside chat with IDC" on 3 March 2021 at 11:30AM IST, 2PM SGT/HKT, 5PM AEDT. You will hear from IDC Research Director Dr. William Lee as he discuss in more detail the emerging technology trends for 2021 and share essential guidance on how you can build a resilient and agile business.
Resources:
1.     Meraki for Digital Workplace
2.     Connected Future with Meraki Wi-Fi 6