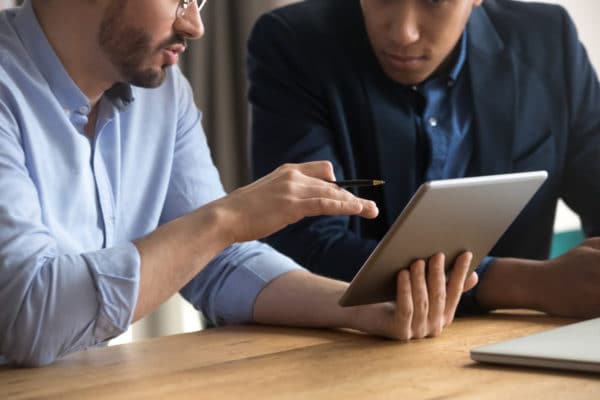 The next six to twelve months will likely see some shocking changes to networks worldwide. As organizations start to return to everyday operations, things will look a lot different than they did before. While challenging, the coming months will serve as an excellent opportunity for networking teams to use a strategic approach to deliver a big impact.
Be agile while facing chaos
A few things that you can likely project in the future are the need to adapt to some form of hybrid work model and the need to leverage new technology solutions to stay safe. Outside of a few key assumptions, unpredictability doesn't mean you should avoid planning. You can succeed in uncertain environments by developing organizational agility and identifying ways to save time. 
As new challenges and uncertainties arise, it's important that your network operations team is able to jump into action. They may have to deal with urgent employee VPN issues, a new corporate requirement for social distancing tech, or an overloaded Wi-Fi network. One place that can make a big impact on freeing up network operators' time is troubleshooting, which is by far the #1 consumer of resources for a typical networking team, taking up 43% of their time.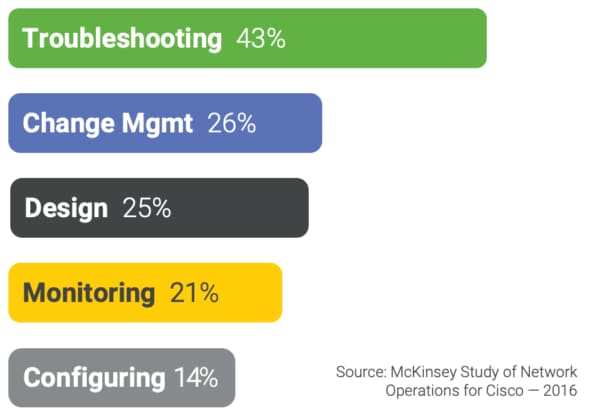 The Wi-Fi network is often a significant contributor to troubleshooting efforts due to the inherent complexities of the wireless medium. With great problems come great opportunities, and Wi-Fi might be a good place to focus when looking for ways to operate more efficiently. 
More data, more devices, more expectations
More is coming. Wi-Fi is now the dominant form of network access and faces huge expectations. 5G is starting to see global exponential growth, with speeds more than 10x as fast as LTE. Users will demand the same high performance on Wi-Fi and will want to offload large quantities of data. People going back to school and work will likely bring along more devices, placing extra strain on networks due to increased collaboration needs. Imagine an office building with 500 employees who want to collaborate seamlessly with remote workers. That means more cloud use, more video calls, and more chat applications. 
Preparing the network for what's next
The IT team is going to need to deliver on high expectations, despite being strained with existing challenges. But, if network teams can free up resources, they have the opportunity to be seen as heroes when they are able to operate in an agile way. By embracing new technologies, the Wi-Fi network will be ready for what's next.
Wi-Fi 6 will help future-proof Wi-Fi networks to deal with cellular offloading, new IoT projects, more cloud use, and the return of employees and students with new devices. With up to 4x higher aggregated throughput, network teams won't have to worry about whether a legacy Wi-Fi network is going to handle what's coming next. Wi-Fi 6 will be a critical technology to help world economies recover from the pandemic by helping facilitate new use cases and business opportunities. 
Embracing automation, particularly in regard to the Wi-Fi network, can help free up the network operations team. Automation can reduce the hours spent parsing through event logs, performance graphs, and alerts to pinpoint the reason a point-of-sale device was not registering on the wireless network. Instead, contextual and informative suggestions can provide automated remediation to enhance the Wi-Fi experience. Post-COVID-19, nearly half of organizations are expecting to increase reliance on advanced automation, and nearly the same amount want to increase their ability to remotely manage their network operations. Automation will allow these teams to reduce repetitive tasks and elevate their value. Individuals can become empowered to manage thousands of devices and transition from operators and practitioners to strategists and architects. 
Learn more about how organizations using Meraki solutions can save 50-70% of their time when troubleshooting, deploying, and managing their networks.