Not long ago the configuration of a computer's settings were the responsibility of the end user. This spawned numerous guides, created by beleaguered IT administrators, that tried to ease the number of repetitive helpdesk support calls on common topics.
What if you could do away with the multi page WiFi configuration guide, yet still allow users to connect securely? Systems Manager Sentry provides simple, automatic security that is context aware. Sentry WiFi settings automate the configuration of mobile device wireless connectivity. This simplifies the task of joining the network for both the user and IT administrator, eliminating one of those clunky step-by-step guides from your help portal. Watch the video below to see this feature in action.
Systems Manager can create WiFi configuration payloads which contain configuration settings for a wireless network. It can then deliver this to the client device so they know how to get connected without the user having to follow a guide. Sentry WiFi settings take advantage of the native cloud integration of Meraki's networking stack with Systems Manager MDM.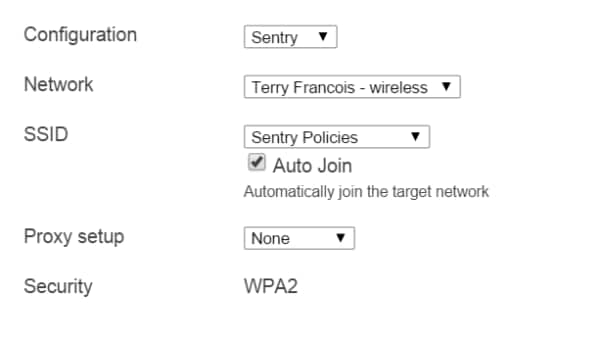 With Sentry, Systems Manager queries the Meraki WLAN network to understand what the security requirements are for a chosen SSID. Now instead of the IT administrator manually configuring the settings, the configuration fields are automatically populated with the correct information, eliminating possible errors and saving time.
The convenience of Sentry WiFi settings becomes exceptionally powerful when combined with the tagging engine available in Systems Manager. Tags are Systems Manager's way of choosing what managed devices should get what settings. As tags can be automatically applied, this means client devices can receive WiFi settings based on dynamic events such as the time of day, device user, device type, location, or security posture.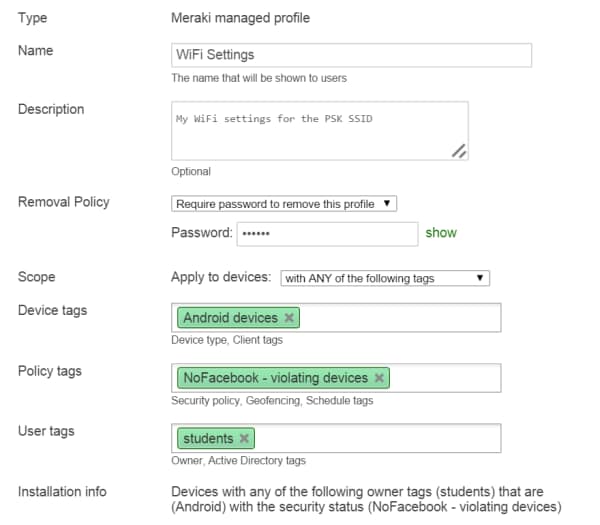 If you would like to find out more about Systems Manager Sentry, then you can attend one of our specialist Sentry webinars, or alternatively contact your Meraki representative for more information. If you are an existing Meraki WLAN customer, Systems Manager offers an industry leading MDM capability with a unique level of network integration, that due to its simplicity can secure and automate your IT operation in minutes.