In just a few days, tens of thousands of IT professionals will descend on sunny San Diego, CA for Cisco Live US, an annual extravaganza for customers and partners eager to rub shoulders with other like-minded folks and up their networking game. No matter which technical sessions you choose to attend or which speakers you hear from, Cisco Live is bound to be a fun and rewarding time.
That all said, there is one way to ensure your time at Cisco Live is a step above most others': hanging out with Meraki! We've got a whole host of exciting things planned that we think will not only educate, inspire, and excite you, but also leave your friends green with envy.
Here are a few Meraki-specific sessions, events, and experiences to look forward to while you're in San Diego.
1. Get Hands-On with Meraki at DevNet Express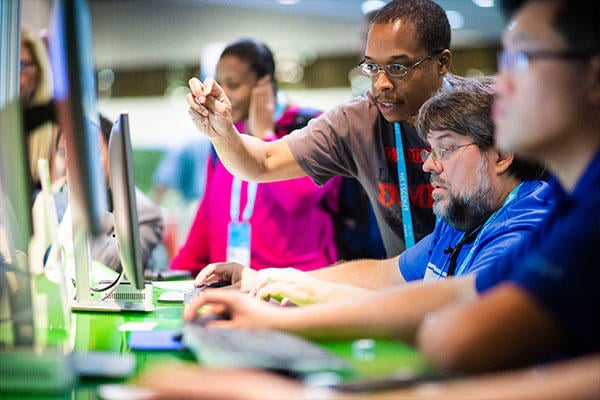 Cisco Live US may not officially start until Monday, June 10, but Meraki is ready to pre-game. On Saturday, June 8 and Sunday, June 9, we'll be hosting our first-ever Meraki-focused DevNet Express in San Diego.
Never been to a DevNet Express? You're in for a treat: you'll learn how to use Meraki APIs to automate routine networking tasks, understand the ins and outs of using the Meraki dashboard, and learn from other networking pros about best practices. Most importantly, you'll learn by doing — DevNet Express is all about putting what you've learned into practice. This means you'll walk out of DevNet Express for Meraki with the confidence to take your Meraki networks to the next level.
Oh yeah, and DevNet Express for Meraki is completely free to attend. Learn more on the Cisco Developer blog.
2. A Bevy of Breakouts
Whether you're looking to hear from Meraki product leaders or to dive into a technical lab, we've got something for you at Cisco Live. Our goal is to help you optimize and derive the most value from your Meraki deployments. SD-WAN? We've got it. Intent-based networking? Check. Brand security deployments? Of course.
Check out our recent blog post for details on all the Meraki sessions your heart could possibly desire. Be sure to register on the Cisco Live US website today!
3. Developers, Developers, Developers
Meraki knows how much the developer community cares about APIs, which is why we've come out with tons of new endpoints in the last couple of years to make Meraki deployments more extensible. Cisco Live is the perfect place to learn more about the power of these APIs. We're dominating the DevNet Zone with no less than 11 sessions and workshops focused on building new capabilities based on the Meraki platform. Here are just a few sample sessions to get you excited:
Network Provisioning, Management, and Monitoring with Meraki Dashboard API

Leveraging Real time Infrastructure Data Streams with Meraki and Cisco Wireless LAN Controller

Hardening your Network with Code (and APIs)
Plus, Meraki will be taking over the DevNet Zone with all things green on Tuesday, June 11th from 4-5 PM. Be sure to stop by to get exclusive swag and learn all about Meraki APIs!
Visit the Session Catalog and log in to your Cisco Live account to sign up for our DevNet Zone events.
4. #MerakiMission + the Brand New Meraki Lounge
For the second year in a row, we're bringing back the #MerakiMission. What's that, you ask? It's a fun way to win free Meraki swag by completing demos and sharing your love for Meraki on social media. #MerakiMission will take place at our first-ever Meraki Lounge, located in the World of Solutions (map below). Be sure to stop by to not only pick up your #MerakiMission swag, but also grab a cup of coffee, charge up your device, and participate in our new Meraki MV virtual reality experience!
Check out how you can participate in the #MerakiMission challenge as well as find more information about the Lounge on our CLUS website. We've got some exclusive, limited edition swag on hand, so don't miss out.

Finally, members of the Meraki Community can stop by the Lounge to meet the famous MeredithW. She'll be handing out special badge ribbons. Come on by and say hello!
5. Innovation Talk: Simple, Secure Digital Workplace with Cisco Meraki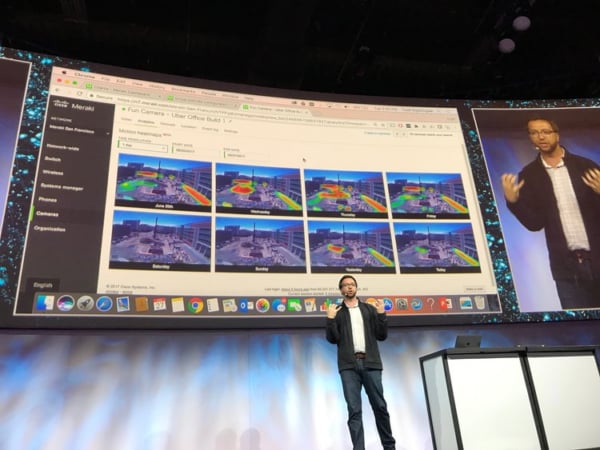 Always a popular draw, Todd Nightingale, SVP and GM of Meraki, will once again take the stage this year. He'll explain why Meraki is about way more than just networking: we're building a foundation for a simple-to-manage and incredibly secure digital workplace — the workplace of tomorrow. Learn what this means for you and why we're so passionate about freeing IT pros to focus on what matters to them. Todd will speak on Tuesday, June 11 at 2:00 PM in Room 20CD (upper level).
---
We're ready to pack our bags, and we hope you are too. Visit our CLUS website for all the details you need about Meraki at Cisco Live. See you in San Diego!