Every three months, like clockwork, the product marketing team at Cisco Meraki shares a retrospective look at what's been going on behind the scenes at Meraki. Why? We know our customers and partners want to hear regular updates on what's new at Meraki as we continue to introduce new products and features. The Meraki Quarterly webinar is our answer to that request.
The Quarterly is an hour-long webinar in which thousands of attendees get the opportunity to hear from the Meraki product marketing team and have their questions answered live. We love hosting the Quarterly, but we realize that not everyone can take an hour out of their busy schedules to watch the webinar. For those of you who didn't get a chance to attend or simply want a written recap of what we discussed, here's a comprehensive look at what the team covered during our April 2019 Quarterly.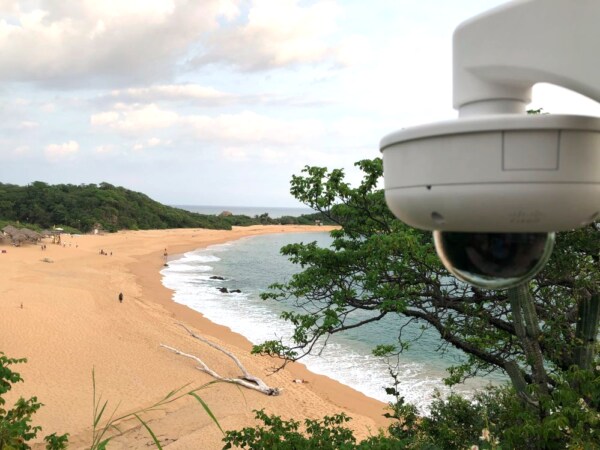 Photo courtesy of @msosa
1. Major Updates and Upgrades to MV
The Meraki MV smart cameras team has been on a tear recently, launching new products and features to our fast-growing camera product. Since our last launch in November, the team has debuted new software and hardware to make it easier to find what you're looking for.
Throughout the quarter, customers have seen several software enhancements to the MV experience. The new Snapshot API is a RESTful API that makes it possible for third party applications to request a snapshot capture from an MV camera. The Snapshot API, when used in conjunction with MV motion alerts, can make it easier for security admins to make more informed decisions by giving these admins more context (a snapshot) when they receive a motion alert. Another software enhancement makes it possible for MV to detect lux levels in a particular scene and take action based on these readings. For instance, if light is suddenly detected inside a room that's normally supposed to remain dark (e.g., a supply closet), a security admin can be sent a notification.
More recently, we launched several major updates to the MV product line. These include a new version of MV Motion Search (which we creatively named Motion Search 2.0), Motion Recap, and a brand new camera: the MV32 fisheye camera with historical digital pan, tilt, and zoom. You can read more in the detailed blog post.
2. Systems Manager: DEP Improvements, New Sentry Features, and More
Cisco's official endpoint management solution, Meraki Systems Manager (SM), continues to become more flexible and robust. First up are some improvements to SM's integration with Apple's Device Enrollment Program, or DEP. It's now possible to add, remove, and edit multiple DEP servers within the same organization in the Meraki dashboard — so a county's library system, for example, can have a DEP server at each branch while managing all of them under a single organization. Additionally, admins can now set a DEP profile to be automatically assigned to newly synced devices. SM also features support for activation lock bypass on Apple devices.
We've also made some updates to Systems Manager Sentry, which is a collection of integrations between SM and Meraki MR & MX:
Network admins can now configure SSIDs so only devices with an SM profile installed can connect to the SSID.

Wi-Fi can deployed to devices based on certain criteria, eliminating the need to manage a certificate authority, RADIUS server, or public key infrastructure.

Sentry VPN lets admins provision client VPN automatically using Meraki VPN, while controlling access based on certain criteria.

Sentry Policies ensure that only devices that meet a certain set of criteria (e.g., aren't jailbroken) can connect to the network.
3. Meraki MR: Setting the Stage for the Future of Wireless
In January, shortly after our last quarterly webinar, the Meraki engineering team released a public beta of the MR26.1 firmware. In addition to improving stability and reliability, this update comes with a few great features. First, Cisco Umbrella, the cloud-based DNS security solution, now integrates with the Meraki dashboard, so network admins can import security policies built in Umbrella into the Meraki dashboard and apply these policies to specific SSIDs. There's also an alternate management interface, which lets an AP source its management traffic from an IP address other than that of the default management VLAN. Finally, admins can now enforce mandatory DHCP and prevent devices with statically assigned IP addresses from wirelessly connecting to the network.
Of course, we know as much as anyone else that the networking world has been abuzz about the next generation of Wi-Fi: 802.11ax, also known as Wi-Fi 6. Meraki is excited about this new wireless standard, and on April 29, all will be revealed about our strategy and plans. Mark your calendars for Cisco's live webinar in which you'll learn more about Cisco's Wi-Fi 6 strategy across both the Meraki and Catalyst portfolios.
4. Switching Things Up with Meraki Switches
As Wi-Fi 6 APs enter the marketplace, switches need to be able to keep up with gigabit speeds. That's why at the end of January, we introduced the MS450, which packs over 1.3Tb/s of switching capacity, 100Gb/s QSFP28 uplinks, and 400Gb/s of stacking capacity. If that wasn't enough, the MS450 can be paired with the MS355 multigigabit switches we introduced back in November 2018, a combination ideal for extremely demanding environments.
In addition to this new hardware, the MS team has unleashed new firmware for Meraki switches, MS11. This firmware update comes with IPv6 Multicast Listener Discovery, improved stacking and scaling capabilities, and an alternate management interface. Moreover, for customers with MS350 or MS355 series switches who have two power supplies connected to a switch, there's now the option to either use one power supply as backup or to use both power supplies in concert to supply PoE for more ports than normal. Now that's what we call powerful!
5. Cloud & API Milestones
Just under two years ago, we announced that we had hit 1 million Meraki networks around the globe, a fantastic milestone we were proud of. This month, we were even more elated to reveal that we just hit the 2 million mark — a doubling in less than two years! That kind of growth shows just how prescient the decision Meraki's founders make to move networking to the cloud truly was. Today, we're continuing to find ways to take advantage of the cloud in every which way possible, including building out a wide set of APIs that third party developers can use.
Already, we've seen significant adoption of our APIs (over 70,000 application developers and 30 million API calls a day!), and over the last few months, we've added a whole host of new API endpoints across the MS, MX, MV, and SM:

Meraki is continuing to push for more extensibility across our entire product line. To learn more, visit https://create.meraki.io/.
6. All Things MX
The Meraki MX is a versatile box. Though it started out as purely a security appliance, over the years, Meraki engineers have packed it with more and more functionality, including SD-WAN and network insight. In the last few months, we have made several improvements in all of these areas.
First, we have added tag-based IPsec VPN failover. What's that? Simply put, it's now possible to do failover from one data center to another. This documentation page explains how it works in more detail.
We also announced during the Quarterly that public betas are now available for an integration between the MX and Cisco Umbrella (similar to the just-launched MR/Umbrella integration) and for IKEv2. The latter includes support for route-based VPNs and stronger encryption algorithms for non-Meraki VPNs. To enable these betas, get in contact with Meraki Support.
Lastly, we announced full general availability of Meraki Insight across the MX portfolio. Attend an upcoming webinar to learn more, or if you're ready to dive in and try it out, start a free trial!
---
Phew! That was a lot. If you're still hungry for more details, we encourage you to watch the full webinar recording. And don't forget — the Meraki Community is open 24/7 if you're looking to chat with like-minded folks about the latest happenings here at Cisco Meraki.