By Shashwat Sehgal and Neeraj Periwal
Yesterday, the internet was abuzz with the news that Google Calendar was down for several hours worldwide. With over five million businesses large and small reliant on G Suite, this outage had a major impact on workers' productivity, since people couldn't check their meetings on the desktop version of Google Calendar. And, of course, there were tweets. So. Many. Tweets.
Since Meraki uses G Suite internally, once we realized that many of our employees couldn't access their calendars we immediately got to work to investigate the root cause of the issue. Fortunately, thanks to Meraki Insight, our IT team was able to detect the problem in a matter of seconds and begin troubleshooting before users even noticed there was an issue.

Meraki Insight helped our IT team learn, in real time, that Google Calendar was down due to a Google server issue, not because of a problem with Meraki's LAN or WAN. Having access to this information helped us save multiple hours of investigative work; without knowing that it was a server issue from the start, our team would have frantically been calling our ISP and trying to detect issues with the LAN.
It all started with an email alert, around the time of the actual outage.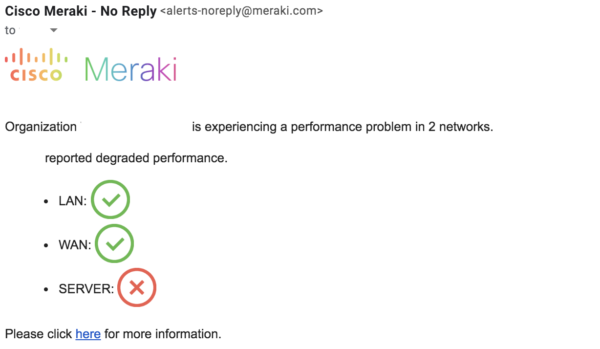 By digging deeper, Meraki Insight helped us learn that several servers on Google's end were partially affected, while two to three were severely affected.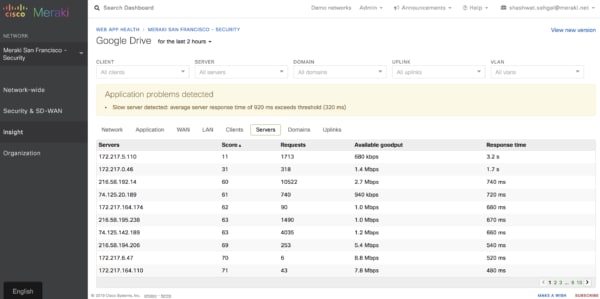 To top it all off, we needed to know how many users on the corporate network were affected by this outage. The short answer: a LOT!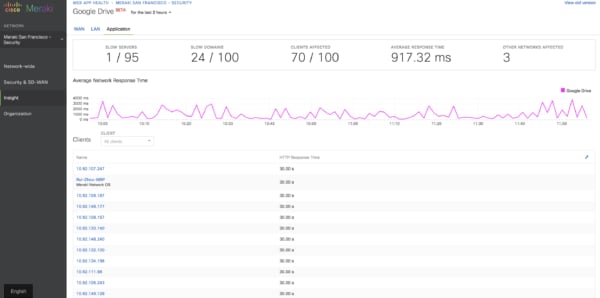 ---
Though SaaS applications are mostly reliable, yesterday's incident goes to show that they're never perfect. With more organizations worldwide reliant on cloud-based apps like G Suite, Office 365, and others, the ability to quickly isolate why issues are occurring when they do materialize is crucial. Meraki Insight helps companies know whether a problem is something uncontrollable, like a server outage, or something that can be addressed locally. This kind of visibility can help organizations save an enormous amount of time and sanity — just ask our IT team.
Learn more about Meraki Insight and sign up for a webinar to get a deep dive.