Over the past 20 years, the online world has fine-tuned its capabilities to accurately target customers and streamline the purchasing and fulfillment process. Every customer touch point is measurable and based upon data science and fact-based decision making.
In stark contrast, the offline world of physical stores has been stuck in analog. As a result, teams within these businesses are often behind digital retailers in analyzing operational metrics,  relying on various traditional approaches including manual counting, gut intuition, and simplistic people counting devices.
Digital tools for brick-and-mortar
Thankfully, much has changed over the past few years. In the United States today, 64 percent of the population owns a smartphone. In Europe and Asia, smartphone penetration hovers at 80 percent (Pew Research, 2014). The explosion of mobile devices and the pervasiveness of WiFi has created new ways of unlocking the mysteries of the physical world.
Just over two years ago Meraki released CMX location analytics to all Meraki WLAN capable devices. The first in the industry to offer advanced location services at no additional cost or complexity, Meraki location analytics is now in use by tens of thousands of customers globally.

Location analytics with Euclid & Meraki
Wi-Fi location analytics from Euclid can leverage the existing Meraki infrastructure to extend the out-of-the-box features and includes additional advanced capabilities. Since 2010, Euclid Analytics has provided insights for the physical world in the same way that web analytics does for e-commerce. Euclid's network captures billions of measurements per day, analyzing hundreds of millions of potential shopping sessions per year, across tens of thousands of physical locations.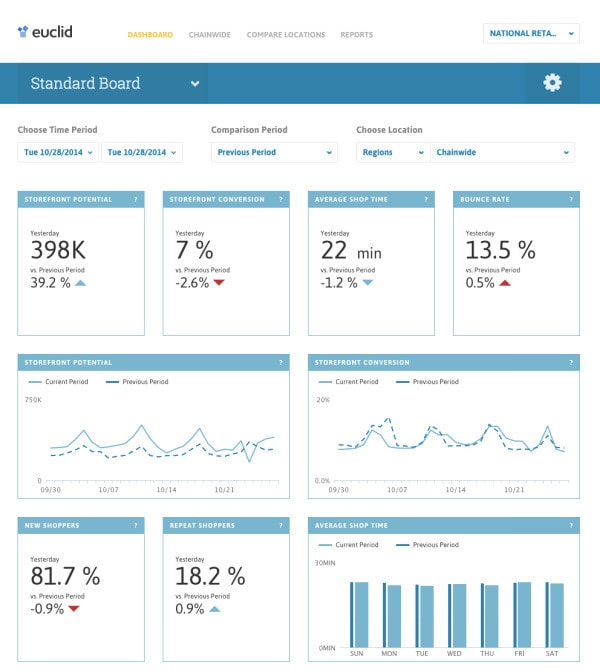 Since Euclid integrates seamlessly with existing Meraki infrastructure through the CMX location analytics API, an IT organization can activate Euclid analytics across thousands of Meraki locations with minimal effort.
Meraki and Euclid detect mobile devices and collect anonymous device information which is then aggregated and analyzed in the cloud. By understanding consumer traffic and behaviors within physical locations, businesses can optimize marketing, in-store operations, strategic decision-making, and staffing activities. No matter the vertical, this new data source can help answer performance and operational related questions.
Specialty Retail: Is your marketing spend making a difference by driving traffic into the store, and can you prove it? Last month, how many new customers did you gain, and how many are coming back again?
Quick service restaurants: Is your staffing aligned with peak traffic times? Are new menu items driving restaurant traffic and sales?
Airports: How long did it take for passengers to clear security or taxi lines in the various airport zones? Is security staffing aligned accordingly?
Hotels: Where should the hotel focus its marketing efforts to drive traffic into the restaurants – on-property or off-property? How many guests pass through specific hotel zones? Are there specific areas of the hotel that require additional staffing needs?
Shopping Malls: During what times of the day is the mall busiest? Which zones were the busiest (or slowest) for the day?  Which stores are located in the busiest zones and should their rents be priced accordingly?
Auto Dealerships: What impact does an ad campaign or an auto show have on dealership traffic? When shopping for a new car, are customers cross-shopping at affiliate dealers within the area?
Want to know more?
If you would like to know more about location analytics with Meraki & Euclid, then you can listen to the podcast below. Sunil Daluvoy (Head of Business Development at Euclid) joins George Bentinck (Solutions Architect at Meraki), to discuss location analytics, what benefit it offers, and the Meraki relationship with Euclid.
Existing Meraki customers wanting to try Euclid for free today can get started using Euclid's Express service, or for further information on the advanced capabilities of the Euclid platform, they can contact Andrew Borella at Euclid Analytics.