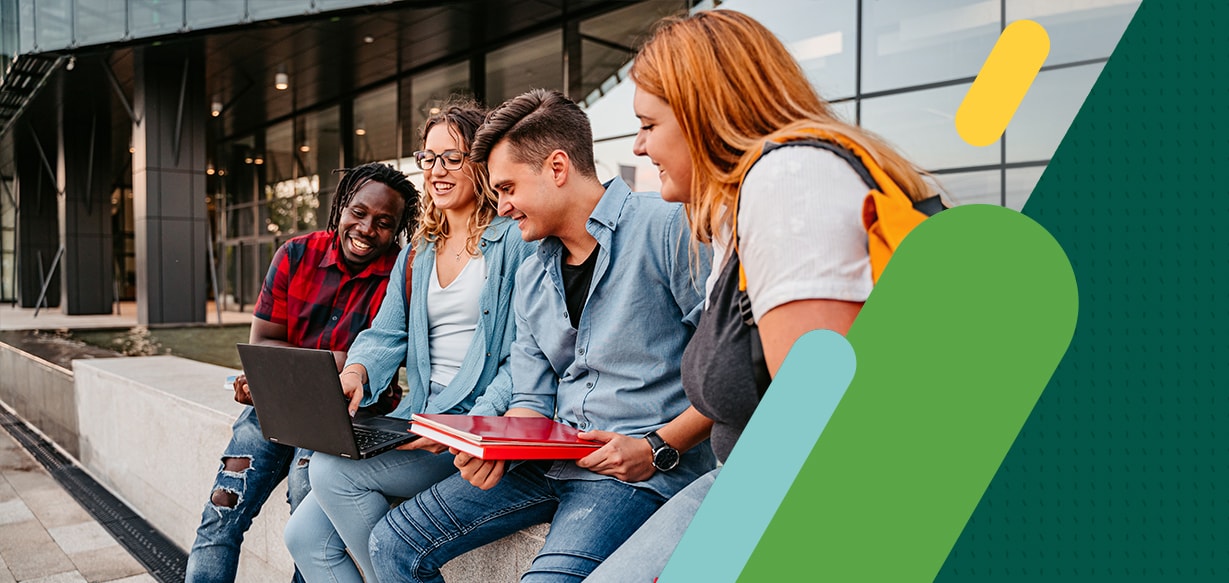 Universities and college campuses are moving beyond the emergency response phase of the past few years and onward to a new era of digital transformation. For them, the path of digital progression leads to the creation of the connected campus—one that both engages students with robust digital learning experiences and meets their expectations for flexibility and reliability at every stage of their education.
The transition to digitalization future-proofs institutions against the ever-amplifying challenges of displaced students, inequity of access to education, stretched budgets, and ongoing closures.
Read on to discover how innovative technology solutions can address these and other challenges for the campus.
Future-proof campuses with a combination of IT and IoT technologies
The 2022 EDUCAUSE Horizon Report highlights technology as one of the key areas institutions should focus their efforts to facilitate successful, meaningful hybrid learning experiences. Sharing links, assignments, and feedback online has become the new norm—as is expecting a fast, secure, and reliable campus network.
Beyond the network, faculty are being called upon to redefine instructional modalities using novel hardware like AR/VR and video tools to engage a dispersed student body. The classroom of the future incorporates creative ways to blend physical environments with virtual experiences, requiring the implementation of new hardware and an ecosystem of IoT devices.
IT teams are challenged to keep up as the number of devices—and the amount of bandwidth needed to support them—increases exponentially.
Institutions like Virginia Commonwealth University, Albany State University, and Butler University are turning to cloud-based wireless solutions to meet their needs, in and outside of the classroom.
"If a student is happy in their dorm room and on campus, able to collaborate and speak with family and friends remotely, and don't have connection challenges, they will have a better experience and get to their goal of graduating and earning a degree."

Noore Ghunaym, Director of Infrastructure at Albany State University
Physical security and cybersecurity remain top concerns
Ensuring a safe, secure learning environment also means ensuring visibility on school grounds and an ability to resolve issues quickly.
Agile, intuitive smart cameras provide actionable insights with on-device storage and remote access, while environmental sensors monitor door activity in restricted areas and report on health metrics like air quality, temperature, and classroom capacity.
Keeping in line with the now inextricable combination of in-person and virtual solutions, security in the cyber world is another concern. Education is by far one of the most affected industries when it comes to cybersecurity threats and susceptibility to malware.
Keep devices protected and data encrypted while enabling IT to spend more time on proactive security projects and less time and budget managing and troubleshooting security solutions.

Overcoming the enrollment cliff
Institutions are attempting to get ahead of the impending enrollment cliff by enticing a digital-centric incoming cohort with creative recruitment tactics, attractive new technology programs, and flexible learning.
One such example: colleges are launching esports programs at an increasing rate. Indicative of growing interest, the Google search term for "esports" has seen a constant uptick over the past decade as the "esports adolescence" is coming to college age.
Hosting esports requires a high-density, reliable, and secure network to avoid latency issues or a maxed-out client limit. Using a full-stack solution with access points, switches, and security appliances supports a competitive student gaming center, as Cisco Meraki deployed at Illinois College.
The future of learning is cloud-based
Higher education has proven itself resilient by moving from pandemic-reactive technology implementations to proactive solutions. Digital transformation is at the core of maintaining a full classroom and an engaged student body. Using the Meraki dashboard, lean IT teams can gain complete visibility and control, valuable insight into network usage, and remote troubleshooting tools without increasing costs or hiring additional IT staff.
Above all, university IT departments are looking to empower students in a safe environment. As you work on your IT strategy for the upcoming year, learn how federal relief and ARPA funding can help secure Meraki solutions for your team and ensure an exceptional, equitable, and sustainable student experience.