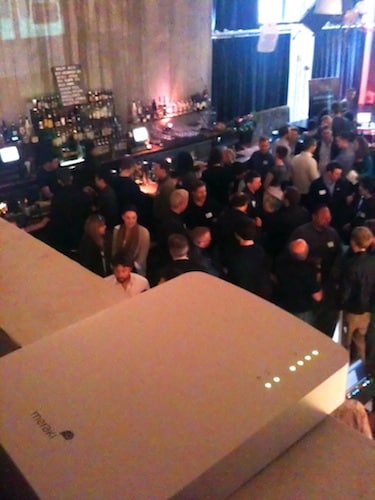 It doesn't matter how large or small the conference is, it seems like they always have WiFi problems. The networks are consistently slow, frequently fail, and usually require some arcane security measure that involve weirdly-small scraps of paper and bizarre usernames.
There's no reason for WiFi to be this frustrating!
At Meraki, we've had some experience setting up WiFi at large events so we know it can be done, it's just a matter of having the right equipment and a little know-how. We'll give you both, for free.
We've started a new project to loan our enterprise-grade WiFi gear to smaller tech conferences, meetups, BarCamps, WordCamps, Tweetups, whathaveyou … for free. You provide the Internet connection, and we'll provide a rock-solid WiFi connection. All we ask in return is that if you like our products, tell your friends, and if not, let us know how we can make them better.
We've just gotten started with this project, but so far, meetups like SF Beta, WordCamp Boulder, and Hacks/Hackers NYC have had great experiences.
"One of the best decisions we made for our conference. Not only was the delivery and setup effortless, our network remained stable throughout the entire day. No matter your wireless needs, this experience alone tells me Meraki's solutions are some of the best." —WordCamp Boulder
As part of this project, we're excited to be partnering with WordCamp.org. We'll offer a streamlined signup process for the many BarCamp-style events that these organizations sponsor throughout the year.
If you run an event and would like to participate in our new Free Event WiFi project, we'd love it if you signed up! We're looking for small to medium-sized events that have enough bandwidth to support that group.
If you're interested, head on over to the signup page to learn more or take a look at our plug-and-play setup guide, or ask any questions below!