With the mammoth growth of mobile device availability and capabilities, virtually all industries have been affected. This includes the creation of new IT processes, new teams, and new categories of solutions like mobile device management (MDM) and enterprise mobility management (EMM). Mobile devices offer leaps in productivity and automation, but there are not many products that truly make it manageable or scalable for an administrator and end user. That is where Systems Manager comes in. Last month, we went over some of the overall benefits of using Systems Manager in EDU. Today, we will talk about some practical examples of mobility with app management.
Mobility – Apps are one of the major ways end users interact with devices. They are also one of the ways businesses provide their products to customers. Imagine everything from mobile websites and Gmail to the SalesForce or even a calculator app. There are three main considerations when venturing into mobile application management. How to push apps, how to manage app licensing, and how to implement containerization. In the following three sections we will show more about each of these contemplations.
Pushing Apps – Nothing makes it as straightforward as Systems Manager in regard to pushing apps. If it is a public app from the Apple App Store or Google Play Store, then search for the desired app and push it to managed devices. If it's an installer or private application, then upload it to the Meraki cloud or point to where it is hosted. With the steps being 1) pick an app, 2) select a group that needs the app, and 3) push the app, it is literally as easy as 1-2-3. See below for an example of some of the top apps customers are pushing to their devices today.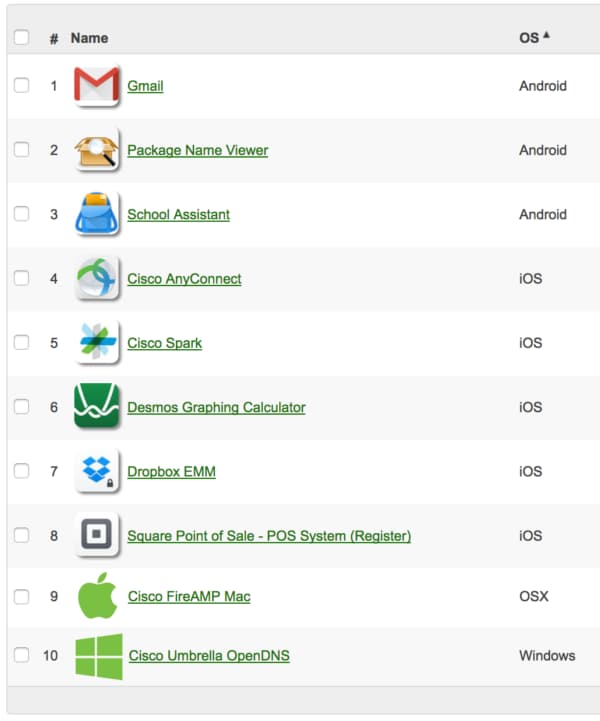 Manage App Licenses – App licensing and software inventory are critical in managing a successful app deployment, but they can be tedious without the right solution. The right solution is something that greatly increases visibility while streamlining the entire process. To accomplish this, Systems Manager not only removes complexities by combining inventory over many devices and device types (e.g. Windows, iOS, Android, etc.) but it also integrates with Apple's Volume Purchase Program (VPP) and Google's G Suite in order to simplify bulk licensing and distribution. In addition, Systems Manager alongside these solutions provides the ability to silently push apps to iOS and Android devices. This means easier management for administrators and less disruption for end users.
Containerization – Finally, there is a great need to decide on a strategy for containerization. This may sound complicated, but it comes down to one simple question: should managed apps and data be allowed to talk to unmanaged apps and data? In the Systems Manager world, if you don't want private apps like an unmanaged Dropbox application or personal file storage to communicate with managed apps like a managed Box app or even a managed email account, then you want containerization. For an example of how simple something this powerful can be, see the configuration options for containerization in iOS below. It only takes deciding on checking or unchecking two boxes.

Hopefully this provided some insight into the simplicity Systems Manager brings to mobile application management (MAM).
To start an instant 30-day trial and see things first hand, click here.