All Meraki wireless products offer out–of–the–box, easy to use location features as part of  Cisco's location analytics technology, Connected Mobile Experiences (CMX). With CMX location analytics it's possible to determine important business metrics such as how many people enter your location, how long they stay, and how frequently they visit.

Adding no additional cost, thanks to the Meraki all-inclusive licensing model, this data has become available to many organizations that could not typically justify deploying when there was an additional cost. This has led to innovative uses of the location data that has enabled smart city initiatives, and allowed educators to understand student movements.
An important component of empowering this creative use of CMX location analytics was the release of an Application Programming Interface (API). This lets organizations have access to the raw data used by the Meraki dashboard. With access to the raw data there are some major benefits. The first is that no data is summarized and full device identities are included, facilitating lookup by other applications, like CRM. The second is that the data is provided offered with only a short delay between it being created and presented to the API.

Thus the API allows for highly advanced software systems to be developed that are location and identity aware. User identity can be linked to devices, location awareness becomes bound only by the geographical dispersion of your access points (AP), and software systems can make decisions within a time span that is relevant to a device's location.
One of the downsides of providing raw data is that it can be complex to manipulate for the application developer. For this reason, the engineering team at Meraki developed a second generation API and open source example code. The version two CMX API can be selected in the Meraki dashboard and offers X,Y coordinates and latitude and longitude values. With the first API, radio signal strength values are provided for trilateration of a devices location. Further details on what is available in the API can be found in the documentation here.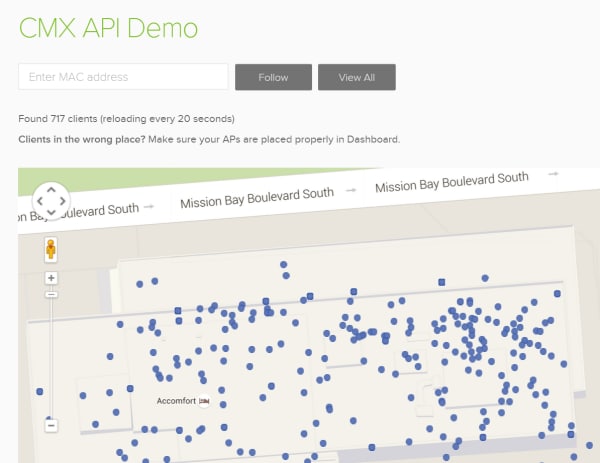 To hear more about the development of the location API, and possible uses of the source code, then you can do so by listening to the above podcast with George Bentinck (Solutions Architect) and Nathan (Member of Meraki technical staff).
If you are interested in building an application with Meraki location information, then it is worth checking out our example code on GitHub here. This provides a great way of getting started with the CMX API and can form the base of your future projects. You can try an application based on this code, with live data from the Meraki offices in San Francisco, by following this link, or by viewing example output data here.