A More Proactive Network Mantra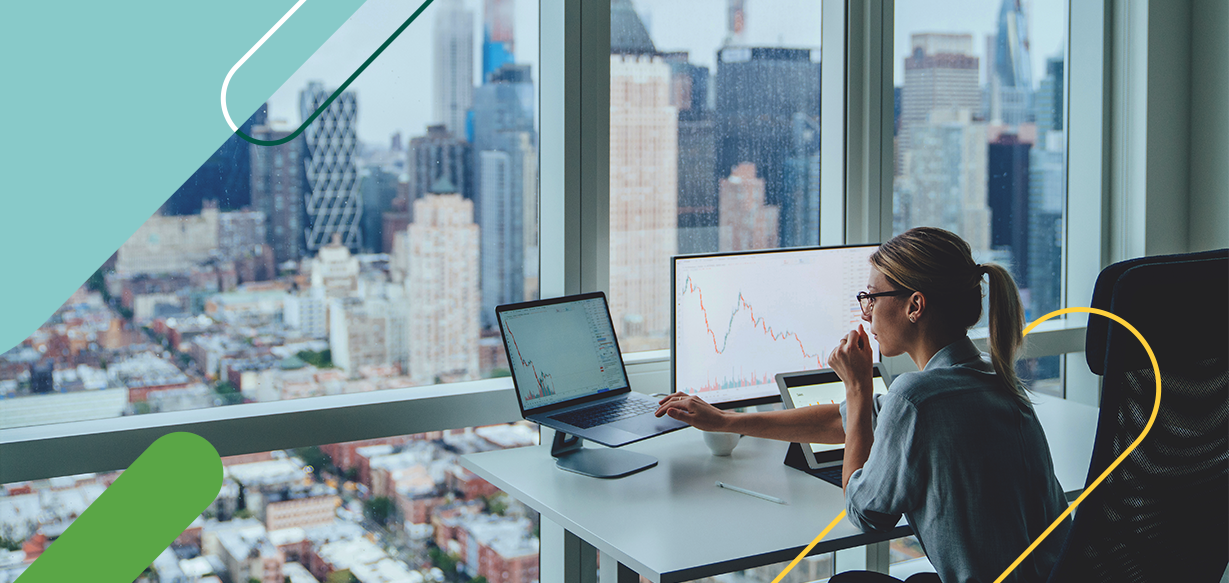 Matt Landry is Vice President of Product Management, Meraki Networking and Cisco Wireless
This article was originally published on Cisco.com.
From campus headquarters to remote offices, the enterprise network is an essential technology nearly invisible to the hybrid workforce. When people need access to an application or service, they expect the network to provide an excellent experience. The best networks just work, delivering applications with assurance. IT managers and network operations staff know that managing a tiered network with multiple outbound connection paths while optimizing application performance across the data center and public internet can be an incredibly complex challenge.
To ensure optimal application experience, IT teams need network visibility and insights into massive amounts of telemetry from Wi-Fi onboarding times to multicloud connectivity statistics to global WAN/internet performance. Data across multiple internal and external domains need to be continuously monitored and analyzed to understand normal and abnormal behaviors. This analysis forms the foundation of predictive assurance; reassuring IT that the network is operating according to plan or alerting that corrective actions must be taken before the application experience degrades.
Predictability and Insights Simplify Network Management
Predictive assurance is just one of the innovations for IT on the journey to the Cisco Networking Cloud, our vision for a cloud-driven networking platform to securely connect the world. Cisco Networking Cloud will empower IT to deliver simple, secure, and predictable experiences that build bridges between technologies, workforces, and devices to drive business outcomes. At Cisco Live 2023, we are advancing our vision with new capabilities in predictive automations and cloud network management to simplify IT operations.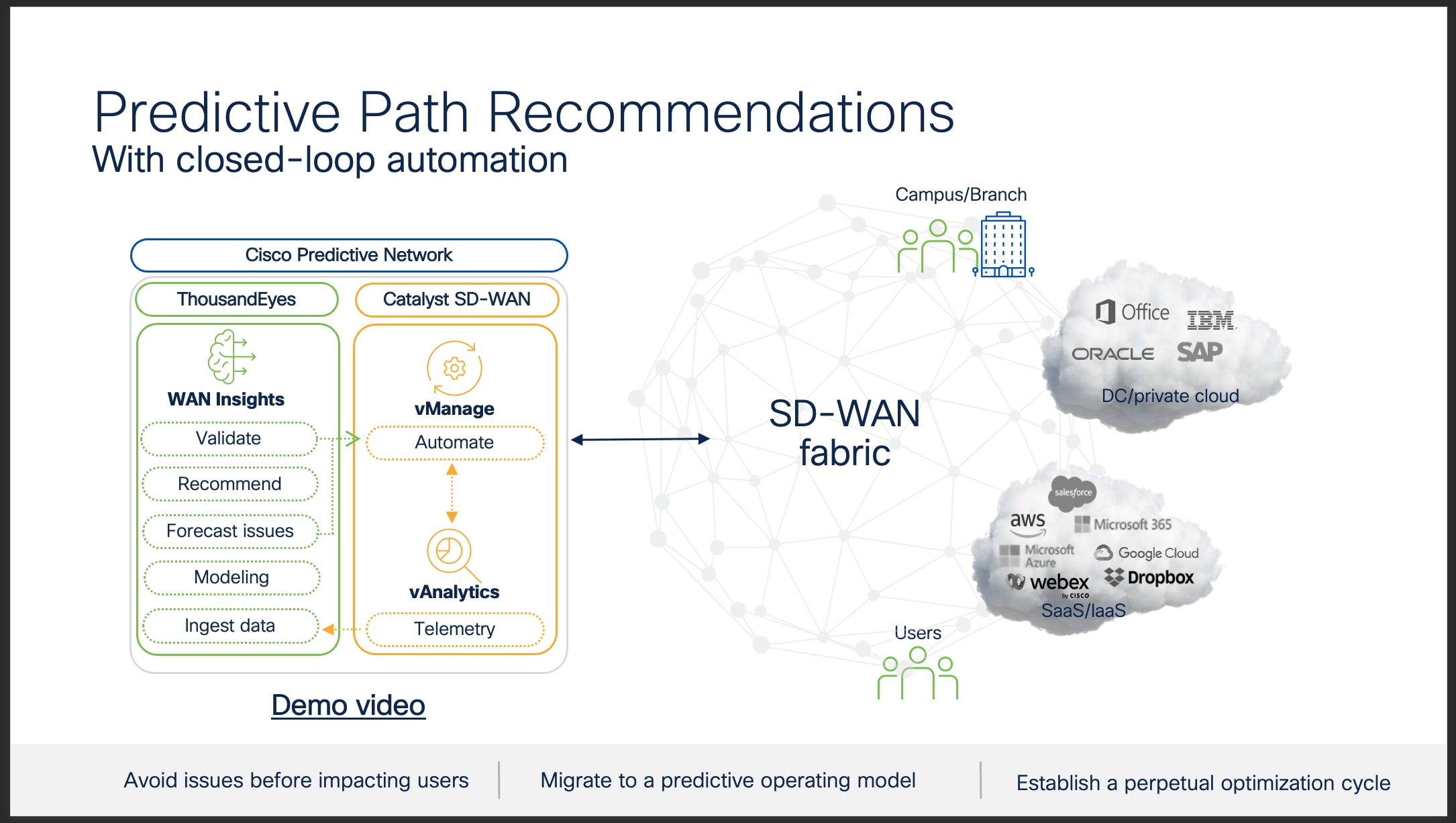 The Power of Predictive Automations
The power of the network is about to take a significant leap forward with predictive automations like Predictive Path Recommendations (PPR). Predictive automations are key to making the network more intelligent and IT more proactive by constantly analyzing telemetry data lakes for trends and outliers and automatically adapting the network to avoid disruptions. By integrating PPR, powered by Cisco ThousandEyes WAN Insights, with new closed-loop automations in Cisco Catalyst SD-WAN, Cisco helps IT proactively resolve network issues before they impact the application experience.
Incorporating advanced algorithms and predictive models into the SD-WAN fabric, Predictive Path Recommendations provide optimization suggestions—if performance falls below historical benchmarks or service-level agreements, corrective action is automatically taken. This minimizes potential network degradation before impacting workers and optimizes overall network operations. PPR replaces the traditional labor-intensive "hunt and seek" fire drills with predictive feedback and automation, freeing up valuable time for IT teams to focus on strategic projects for the business.
This helps organizations achieve a perpetual optimization cycle of desired CapEx and OpEx outcomes. Predictive analytics enhance resource planning and network engineering, enabling organizations to maintain optimal capacity and thus driving CapEx efficiency. Proactive identification and resolution of issues maintain the workforce application experience with minimal IT intervention, delivering improved OpEx efficiency.
Increasing Visibility Beyond the Enterprise Network
Given the growing importance of direct internet access and public cloud networks as the middle mile for distributed organizations, IT needs deeper insights into those connections to proactively make disruption-avoiding changes.
Cisco ThousandEyes delivers internet and cloud intelligence, empowering IT teams with collective visibility into every segment of the enterprise network, including the internet. This enables enterprises to see, understand, and improve digital experiences from every cloud to every employee and customer.
The deep integration of Cisco ThousandEyes and Cisco's SD-WAN portfolio empowers IT to preemptively identify network issues outside of the enterprise before application performance degrades and the workforce notices connectivity disruptions.
Continuing to Simplify Access Visibility with Cloud Management
Last year, we announced the first phase of cloud management for Cisco Catalyst access devices. Almost 1,500 organizations have already turned to the Meraki cloud management platform to view, troubleshoot, and monitor their Cisco Catalyst networks.
This year, we're expanding the control of cloud-connected Cisco Catalyst switches with visibility into command-line interfaces and device configurations through the Cisco Meraki dashboard. New capabilities include agile software image management and, coming soon, visibility into Catalyst access points managed by Catalyst wireless LAN controllers. These innovations ultimately give IT a more complete view across their access networks from anywhere via the Meraki dashboard.
Proactive Enterprises Run on Predictive Networks
The network has never been more essential to enterprise operations at scale, connecting the hybrid workforce and helping digitization projects to deliver the desired innovations. Our vision for the Cisco Networking Cloud will improve the application experience and redefine end-to-end assurance through advanced algorithms and predictive models with deep network visibility and proactive insights.
To learn more: