As 2015 comes to a close and the winter weather sets in, the Meraki team have been planning the many exciting events we will be attending next year. One of the big events kicking off the year is Cisco Live! in Berlin.
Along with an extensive presence in the world of solutions, a number of members of the Meraki team will be running sessions throughout the week. This is a fantastic opportunity to hear the latest product updates, get detailed information on feature functionality, and expand your cloud managed networking knowledge. All speaking sessions will be presented by experts from the product marketing team, and in typical Meraki fashion will be in an engaging and interactive style that includes live demonstrations.
If you're planning on coming to Cisco Live! and would like to attend one of the Meraki sessions, we suggest you sign up as soon as possible to secure a place. Meraki sessions at last years Cisco Live! in Milan were exceptionally popular, with a queue for last minute places. To easily book your spot, visit the Cisco Live! Berlin content catalog page for Meraki here.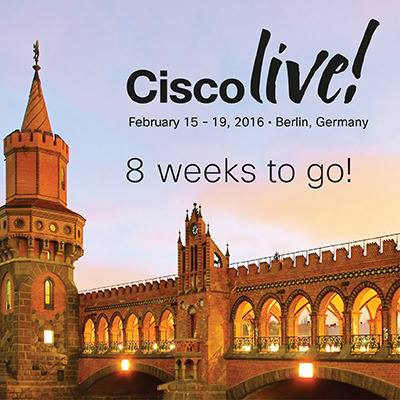 Intermediate – Cloud-Managed Mobility with Meraki Wireless and MDM [BRKEWN-2002]
George Bentinck, Solutions Architect
Tuesday, Feb 16, 11:15 a.m.
Session Length: 1 hr 30 min
This session will provide a recap of the Meraki cloud architecture and an in depth look at the latest Meraki WLAN offerings. Accompanying this will be an extensive look at managing mobility in the enterprise, with detailed discussion of mobility security and integration of MDM and EMM into WLAN. The session will be a mixture of slides, demonstrations, and audience interaction.
WiFi meet Beacons meet MDM with Cisco Meraki [BRKEWN-2066]
Simon Tompson,Technical Evangelist
Thursday, Feb 18, 2:30 p.m.
Session Length: 1 hr 30 min
A lot has been happening in the world of Cloud Managed Wireless. Join the Cisco Meraki team to learn about the very latest portfolio developments in the world of 802.11ac WiFi, Location Analytics, BLE Beacons, and integrated MDM policies.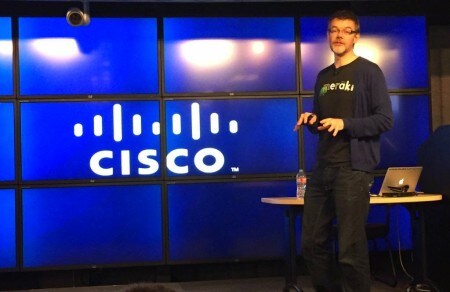 Cloud-Managed Security for Distributed Networks with Cisco Meraki MX [BRKSEC-2055]
Joe Aronow, Product Marketing Manager
Wednesday, Feb 17, 11:30 a.m.
Session Length: 1 hr 30 min
Meraki's cloud managed networking portfolio includes out-of-the-box centralized management capabilities to help administrators secure distributed networks. This session will provide a product update on the Cisco Meraki MX security appliance with an emphasis on new and existing security features. The session will feature a live demo of key security capabilities such as the new IWAN features, SourceFire IPS/IDS, Malware Protection, and more.
Building Scalable, Flexible Enterprise Architectures with Cisco Meraki [BRKCRS-2101]
Simon Tompson,Technical Evangelist
Friday, Feb 19, 9:00 a.m.
Session Length: 2 hr
The simplicity and flexibility associated with cloud managed networking isn't limited to small and medium sized organizations. The Cisco Meraki product family helps customers to easily build and maintain scalable, resilient networks containing thousands of devices with enterprise-class performance. During this session we'll walk through the management tools, features and architectures available across Cisco's popular cloud managed portfolio of wireless, switching, security and MDM products, demonstrating how customers can scale with confidence.
Cisco Enterprise WLANs: understanding all the solution options and required technology details [TECEWN-2016]
George Bentinck, Solutions Architect, Meraki
Aadil Hassim, SE, Cisco
Gerhard Jaeggle, SE, Cisco
Maren Kostede, Systems Engineer, Cisco
Monday, Feb 15, 9:00 a.m.
Session Length: 8 hr
This technical seminar is a deep dive into the different options that you get for a full Wireless Network design at Cisco. It includes all necessary baseline knowledge to understand 802.11 and WiFi important differences with wired deployments, details and comparisons between Cisco Unified Wireless Network (CUWN), Converged Access, Mobility Express, private-cloud deployments (FlexConnect) and public-cloud based networks (Meraki). We will look at the key building blocks of all solutions, including licensing and management, as well as where it fits best in your network (campus, branch offices, managed services for small enterprises), and compare them with other Wireless LAN vendors' offerings on the market. We will also be highlighting some key advanced features of the Cisco Wireless solutions, and showcase use cases where each architecture has its own place.