The Meraki team were once again at the International Society for Technology in Education (ISTE) conference in Philadelphia. ISTE has been a regular event on the marketing teams calendar of the marketing team's calendar, with this year being no exception.
A beautiful booth, courtesy of the Meraki design team, formed the centerpiece of our presence at the show, and keeping it gleaming was a high priority. All hands were on deck to polish and scrub the floor each morning, ready for the eager crowds.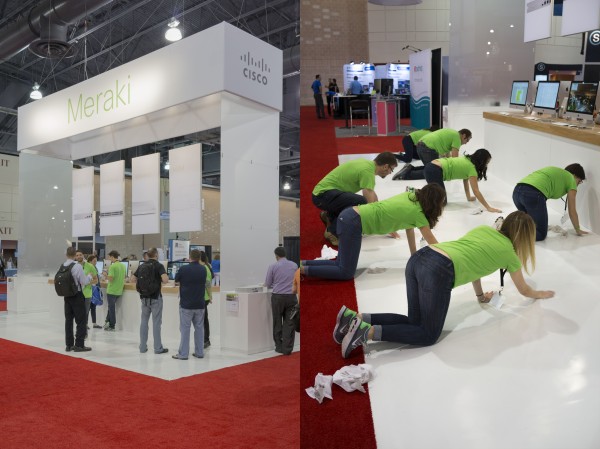 One of the great things about the Meraki cloud is the simplicity with which IT administrators can manage multiple platforms. From MDM to WLAN, LAN, and WAN, the Meraki full stack of products provides unique benefits such as those seen with Systems Manager Sentry. To celebrate this, attendees to the Meraki booth could receive a custom #fullstack t-shirt by participating in a one-on-one demo of the products.

One of the customers to visit the booth was the team from the Upper Township School District in New Jersey. It was great to hear about their experiences operating a Meraki network, and their continued expansion of their deployment. Glen Stewart, Director of IT, spared a few minutes to talk about why the district chose Meraki, how they evaluated different vendors, and the testing of high density WiFi in classrooms.
If you missed the Meraki team at ISTE, don't despair, you can join one of our regular webinars on a wide variety of topics. These include high level introductions to Meraki, product specific sessions, and customer testimonials. Bryan Independent School District joins us on Thursday to discuss how easy it is to deploy and manage Meraki APs, switches, and security appliances in support of 16,000 students. Sign up to attend here, or if you missed the live event, you can watch the recording here.
Do you have the Meraki #fullstack? If you do, why not share your story with us on Twitter @Meraki, we would love to hear from you.