Our enormously popular webinar series, Mission Impossible, is back. Help us save the Meraki dog!
A little under 2 years ago Meraki did what no one else dared. In a world's first we set up a working, enterprise grade WiFi network in under an hour during a live webinar. No safety net was used, no magic tricks, only what a real network engineer would experience using Meraki WiFi.
The unprecedented popularity of this event spawned a sequel even more daring than the first. On that occasion we set up a BYOD–ready network with Active Directory integration and connected phones and laptops to the newly created network.
Now, for the third instalment the stakes have been raised, and it just got personal…
The Mission Impossible team is forced back into action for their toughest challenge yet, as an evil network genius has abducted the beloved Meraki dog – Daisy. Hell–bent on causing maximum mayhem and not motivated by money, the kidnapper is demanding the successful configuration of a seemingly impossible network, within an hour. To make matters worse, the captor has also stipulated that the configuration of the network must be decided by the audience. During the webinar you will be able to vote for the scenario you would like to see completed. The scenario with the most votes will be attempted…live!
JOIN US AND HELP SAVE DAISY
Spaces for the premiere are limited so please sign up now to avoid disappointment.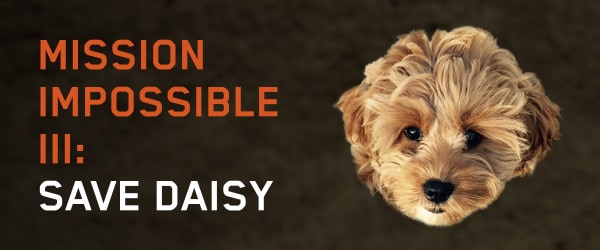 Follow us @meraki or search #savedaisy to be first to hear about the scenario options and to win exclusive Meraki merchandise.
This blog post will self-destruct in…10…9…8…
Best regards,
The Cisco Meraki Team