As a Cisco Meraki customer, you already know how cloud managed IT can simplify your security and wireless, but that's only part of the story. Read on to learn how you can get more value out of the Meraki platform by extending the benefits of cloud management to switching.
Extend the detailed network visibility of the Cisco Meraki dashboard into your wired LAN
Traditional IT management systems have taught us to think of the different layers as different solutions — wireless is separate from switching, which is separate from security, and so on. In reality, however, these layers of IT are really components of the same solution: the network, which at its core is a delivery vehicle for content and services. Combining analytics data from wireless access points and wired network infrastructure provides a holistic view of client and traffic activity across the network, regardless of whether the devices involved are connected wirelessly or via an ethernet cable.
This not only offers a clearer picture of activity and usage, it also makes it much easier to troubleshoot potential issues. With the network topology feature included in Meraki MS switches, tracing a client's path to the internet or a local service is easy. Administrators can drill down into any Cisco Meraki device along the path in order to view traffic flow data, retrieve interface statistics, run cable tests, or even take a packet capture  — all without ever leaving the dashboard interface.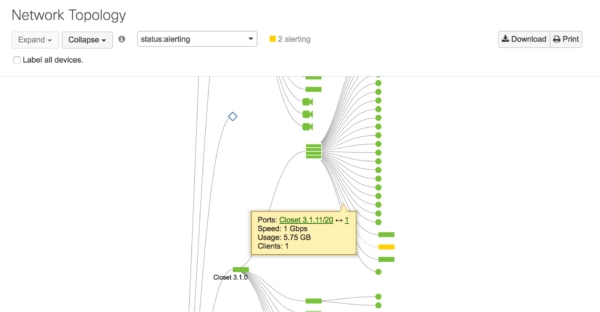 Take advantage of continued product evolution and rich APIs
One of the greatest benefits of a cloud-enabled platform is that it continues to evolve to meet the needs of its users. With Cisco Meraki, both the products and the cloud management dashboard are updated constantly to add more value for new and existing users. The addition of such developments as physically stackable switches, wall plate and multigigabit access points, built in SD-WAN capabilities on the MX Security Appliance, and wireless location analytics with integrated bluetooth low energy beacons have drastically increased the reach of Meraki solutions by allowing IT organizations to deploy them in an increasingly wide array of environments.
We've also invested heavily in our APIs to make the solution even more flexible. With technology becoming increasingly central to many of our customers' day-to-day operations, IT infrastructure has become the foundation of an array of services tailored specifically to their needs. Provisioning, analytics, and monitoring APIs provide customers with a simple way to bring those services to bear, whether they are developed in-house or offered by a partner.
Want to try out these capabilities and see how Cisco Meraki can simplify your networking needs? Begin an evaluation to try any Meraki product for yourself!