WiFi should just work!
Events break regular WiFi networks.
Our gear just works. Borrow some, for free.
Get on the list!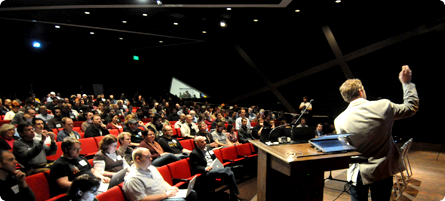 Sign Up
Add your event to our list, and we'll let you know when we have free gear to send out.

Set Up
All you'll need is power and web access. All the gear comes configured, just plug it in.

Ship Back
When your event is over, pack it all into the box it came in and call for a free pickup.
No really, it's free.
We're a bunch of geeks who make enterprise-grade wireless networking hardware, only we make it simple. We've been to enough meetups to know that WiFi isn't always what it should be – we aim to fix that.
If you're planning a BarCamp, meetup, tweetup, or any event where WiFi is a problem (even outdoors), we'd like to help. You supply an internet connection, we'll loan you the WiFi, gear and shipping are on us.